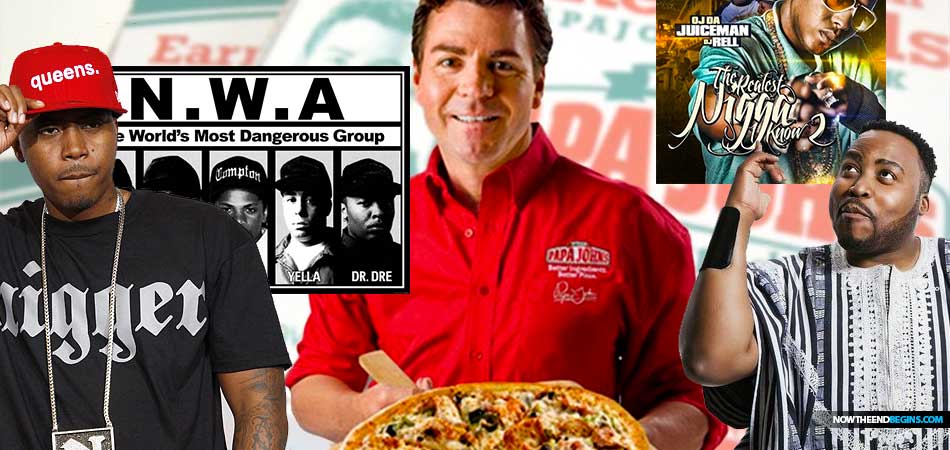 To have a ludicrous and disgusting double standard by which people of one color lose millions for saying it, and people of another color make millions for saying it, is something that should be offensives to people of all colors who have a brain that is in reasonable working order.
Let me just say for the record that I have never had Papa John's Pizza, and it's doubtful I ever will. This article is not a defense of John Schnatter's use of the n-word which has recently come to light. No, this article is about the unequal way that differing groups of people who use the 'n-word' are judged, punished, or rewarded for its use.
"A false balance is abomination to the LORD: but a just weight is his delight." Proverbs 11:1 (KJV)
FROM CBS NEWS: Papa John's Pizza's founder John Schnatter may have resigned as chairman of the restaurant chain's board of directors following news that he used a racial slur in a conference call, but he still owns a substantial stake in the company. Schnatter resigned as chairman on Wednesday amid a growing uproar about his comments. Papa John's shares, which fell nearly 5 percent on Wednesday, were up 12 percent on Thursday. Schnatter acknowledged using a racial slur during a May conference call and apologized following a media report that also said the pizza chain founder had graphically described violence against minorities. "News reports attributing the use of inappropriate and hurtful language to me during a media-training session regarding race are true," Schnatter said in a statement released Wednesday by the company. "Regardless of the context, I apologize. Simply stated, racism has no place in our society," Schnatter's statement said. READ MORE
I was at the pool in our development yesterday, and three young kids were playing music over Echo from their smartphones. They were playing some rap song that I should recognize but didn't, and every other word was 'n-word' this, 'b-that', and all the way down the line. In short, it was disgusting and highly aggravating. They saw me giving them the eye, and just as I was about to go over there and say something, they changed the song. Smart kids.
And just in case you were wondering, no, they were not black or 'people of color'. They were 3 white kids ranging in age from 17 to about 25. They were playing the racist and misogynist songs of their black rap artist 'heros'.
But as I pondered on the racist and misogynist lyrics found in your average rap song, or c-rap as I like to say, it got me thinking on the vast inequity over the use of the 'n-word' in our society.
For example, a white CEO like John Schnatter gets fired for using it, but a black music CEO and OTO satanist like Jay-Z is allowed to make millions from using it. Black recording artists are allowed to use it in their songs which white people buy that make them rich. But if those same white people dare to sing out loud those same lyrics containing the 'n-word', they are attacked and persecuted as racists. It's enough to make your head spin perpetually.
FROM FOX NEWS: Some sorority sisters at the University of New Hampshire are being investigated after a video showing them singing along to a Kanye West song containing the N-word was posted on social media. The Snapchat video shows the members of Alpha Phi Sorority dancing at a party and singing the N-word as part of the lyrics to the song. It prompted other students to condemn the sorority's "ignorant and insensitive" behavior. "A member of Alpha Phi Sorority put up this video of girls singing along to 'Gold Digger' by Kanye West on her Instagram story," the post reads. "The girls sing the N-word without thinking of the implications." READ MORE
"Now, I ain't sayin' she a gold digger
(When I'm in need) But she ain't messin' with no broke niggas
(She give me money) Now, I ain't sayin' she a gold digger
(When I'm in need) But she ain't messin' with no broke niggas" Kayne West
What a perfect topic it would have been for Arsenio Hall Show, back in the 1990's, to do in their "Things That Make You Go Hmm" segment, right? What utter insanity, right? But I digress.
What it all comes down to is this. Either the 'n-word', the word 'nigger', is either a good word or a bad word. Case closed. Either we can use it in polite society or we cannot. Case closed again. But to have a ludicrous double standard by which people of one color lose millions for saying it, and people of another color make millions for saying it, is something that should be offensives to people of all colors whose brains are in reasonable working order.
Don Lemon on fake news CNN has carte blanche to use the 'n-word' all he likes, but have a white guest on that uses the same word in a quoted comment? OUTRAGE!!!! GET OFF MY SHOW!!!! **CUE THE LIBERAL TEARS**
I do not use the 'n-word' in either my public or private conversations. I find it mean-spirited and derogatory. I feel the same about other words like 'kike', 'wop' and 'cracker'. But this idea that black people are allowed to use it, and even profit from using it, while at the same time decrying racism in America, is stupidity of the highest order.
Let's let the Bible have the last word.
"Let the words of my mouth, and the meditation of my heart, be acceptable in thy sight, O LORD, my strength, and my redeemer." Psalm 19:14 (KJV)
***************************
Now The End Begins is your front line defense against the rising tide of darkness in the last days before the rapture of the church
HOW TO DONATE: Click here to view our GoFundMe page
When you contribute to this fundraising effort, you are helping us to do what the Lord called us to do. The money you send in goes primarily to the building of the recording studio, but it also goes to the overall daily operations of this site. When people ask for Bibles, we send them out at no charge. When people write in and say how much they would like gospel tracts but cannot afford them, we send them a box at no cost to them for either the tracts or the shipping, no matter where they are in the world. Even all the way to South Africa. We even restarted our weekly radio Bible study on Sunday nights again, thanks to your generous donations.
But whatever you do, don't do nothing. Time is short and we need your help right now. If every one of the 12,621 people on our daily mailing list gave $4.50, we would reach our goal immediately. If every one of our 151,781 followers on Facebook gave $1.00 each, we would reach 300% of our goal. The same goes for our 13,600 followers on Twitter. But sadly, many will not give, so we need the ones who can and who will give to be generous. As generous as possible.
"Looking for that blessed hope, and the glorious appearing of the great God and our Saviour Jesus Christ;" Titus 2:13 (KJV)
"Thank you very much!" – Geoffrey, editor-in-chief, NTEB
HOW TO DONATE: Click here to view our GoFundMe page
---
The post Papa John's Pizza CEO Forced To Step After Saying The N-Word While Rap Music Companies Make Millions Using It appeared first on Now The End Begins.
Source:
http://www.nowtheendbegins.com/papa-johns-pizza-ceo-forced-step-down-after-using-n-word-while-rap-music-companies-make-millions-using-it/
We encourage you to Share our Reports, Analyses, Breaking News and Videos. Simply Click your Favorite Social Media Button and Share.