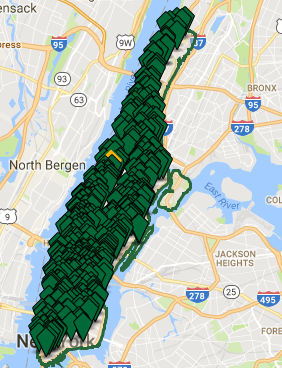 wolfstreet.com / by Wolf Richter / September 30, 2016
The supply of rental units on the market is ballooning.
"The trend in rental prices this month was mixed": so started out the Zumper October Rent Report for the month of September.
"Mixed" is not exactly a bullish term – not when it includes the two most expensive housing markets in the US, San Francisco and New York, where rents have fallen, in some cases sharply, on a year-over-year basis, as the supply of new apartments already on the market and coming on the market is enormous.
In San Francisco, the median asking rent for a one-bedroom apartment fell 5.5% year-over-year to $3,420, according to Zumper, which analyzes rental data from over 1 million active rental listings. For a two-bedroom, it fell 4.4% year-over-year to $4,780.
It was the third month in a row of year-over-year declines. The last time the market was negative year-over-year was in April 2010. Since then, rents have soared at astonishing rates. Hence the San Francisco term for it: "Housing Crisis." It's when even teachers can't afford to live in the city – unless they've been in a rent-controlled apartment for years and don't get evicted.
The post Rents Plunge in San Francisco, New York. "Mixed" Nationally appeared first on Silver For The People.
Source:
http://silveristhenew.com/2016/09/30/rents-plunge-in-san-francisco-new-york-mixed-nationally/
We encourage you to Share our Reports, Analyses, Breaking News and Videos. Simply Click your Favorite Social Media Button and Share.