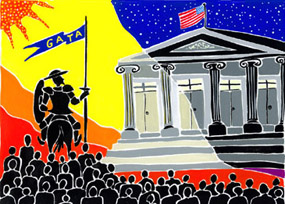 gata.org / From the New York Sun / Saturday, November 19, 2016
It's none too soon for President-elect Trump to think about whom he wants for chairman of the Federal Reserve. Come January he will have little more than a year to make this decision, given that Janet Yellen's term as chairman expires in February of 2018. She has so firmly interpreted congressional oversight as a form of political interference that it's hard to see how she could be anything but an obstructionist in respect of monetary reform. She seems cool even to a centennial review of the Fed's performance as the central bank commences its second century.
So what about a brilliant and tough-minded constitutional lawyer? Many of the questions surrounding the Fed, after all, have to do with the constitutional concept of money. To what were the Founding Fathers referring when, in the Constitution, they twice used the word "dollars"? How should that affect our thinking today? Could one find a constitutional maven who also had some political experience, a leader who has even campaigned for the idea of honest money when others were ignoring the issue? Even one prepared to open up the question of a gold standard?
It turns out that there is a figure that meets every one of those particulars — Senator Cruz. …
The post New York Sun: Trump's Fed chairman appeared first on Silver For The People.
Source:
http://silveristhenew.com/2016/11/20/new-york-sun-trumps-fed-chairman/
We encourage you to Share our Reports, Analyses, Breaking News and Videos. Simply Click your Favorite Social Media Button and Share.