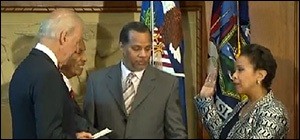 Attorney General Loretta Lynch Is Sworn In by Vice President Joe Biden on April 27, 2015
wallstreetonparade.com / By Pam Martens and Russ Martens / November 3, 2016
Last night, at 10:04 p.m., two reporters at the Wall Street Journal tossed an incendiary device into the already smoldering debris of what is attempting to pass for a U.S. presidential election – where one of the two leading candidates is under a criminal investigation and the other was caught on tape bragging about being able to randomly grab women by their genitals.
Wall Street Journal reporters Devlin Barrett and Christopher Matthews revealed last evening that the FBI has had an active investigation underway into the Clinton Foundation since last summer but in February of this year the Justice Department told the FBI agents to "stand down" on that investigation. The Clinton Foundation is a sprawling international charity which has accepted tens of millions of dollars from foreign governments and foreign corporations as well as Wall Street firms and other U.S. corporations. Many of its donors have also paid large sums in speaking fees or advisory work to Bill Clinton. Allegations have arisen that there has been pay-to-play for favors granted to the donors during Hillary Clinton's time at the State Department. The Clintons have denied any such conduct.
The Attorney General of the Justice Department, Loretta Lynch, was sworn in on April 27, 2015. She met secretly with Bill Clinton on her plane on the tarmac in Phoenix, Arizona on June 28 of this year, at a time when Hillary Clinton was under a criminal investigation over her use of a private email server to transmit classified government material during her time as Secretary of State. Now, as the Wall Street Journal article makes clear, the Clinton Foundation has also been under a year-long investigation by the FBI, a unit of the Justice Department. Bill Clinton continues to serve as a Director on the Clinton Foundation's Board. Chelsea Clinton, the daughter of Bill and Hillary Clinton, serves as its Vice Chair.
The post Secret Recordings Emerge in Clinton Foundation Probe appeared first on Silver For The People.
Source:
http://silveristhenew.com/2016/11/03/secret-recordings-emerge-in-clinton-foundation-probe/
We encourage you to Share our Reports, Analyses, Breaking News and Videos. Simply Click your Favorite Social Media Button and Share.