Headline: Bitcoin & Blockchain Searches Exceed Trump! Blockchain Stocks Are Next!
mauldineconomics.com / BY JARED DILLIAN / NOVEMBER 17, 2016
It's almost as if I can see the future.
In the September 22 issue of The 10th Man, I went through the math of how people would get screwed in a bond bear market.
I went through all the math, wrote about what duration was, gave some concrete examples of what would happen if rates backed up 100 basis points—and sure enough, since the election, rates have backed up about 40 basis points. This has meant heavy losses in bonds and bond funds.
Like our friend TLT here: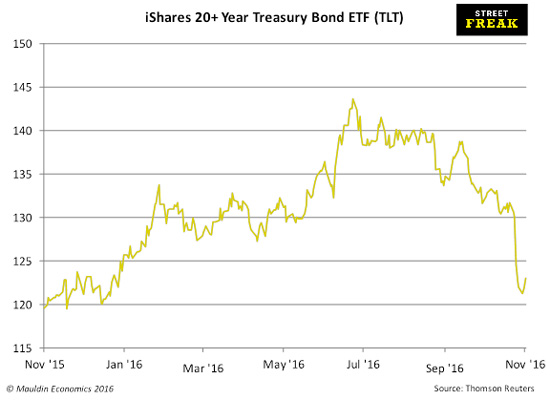 The post The Pain of Regime Change appeared first on Silver For The People.
Source:
http://silveristhenew.com/2016/11/17/the-pain-of-regime-change/