wolfstreet.com / by Wolf Richter • Jan 6, 2017
The Fed makes sure employers have access to cheap labor.
In the jobs report today, there's one figure that the Fed has riveted its collective eyes on. Sure 156,000 jobs were created, below average for 2016, and way below average for the prior two years. And the unemployment rate ticked up to 4.7%. And there were other ups and downs in the data which covered the volatile holiday period, and therefore was subject to notoriously big seasonal adjustments, and that's all cute as far as the Fed is concerned, and they're going to glance at it, but there's one number they fret about: wage increases.
And not in the sense that Fed Chair Yellen occasionally inserts into her comments, but in the opposite sense.
Average hourly earnings jumped 0.4% to $26 per hour. They're now 2.9% higher than a year ago and 5.7% higher than two years ago. However, don't credit the minimum wage increases that became effective six days ago in cities and states around the country; they're not yet included. Note how the trend in rising average hourly wages started two years ago: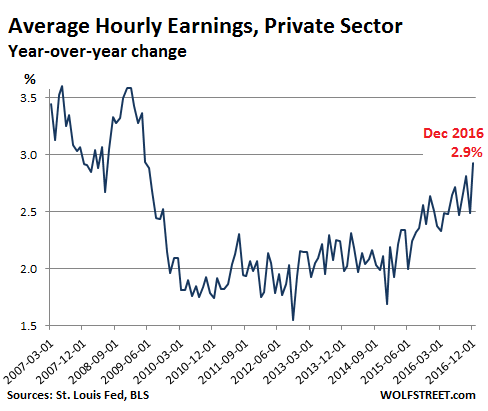 The post The Thing in the Jobs Report that Gives the Fed the Willies appeared first on Silver For The People.
Source:
http://silveristhenew.com/2017/01/06/the-thing-in-the-jobs-report-that-gives-the-fed-the-willies/
We encourage you to Share our Reports, Analyses, Breaking News and Videos. Simply Click your Favorite Social Media Button and Share.