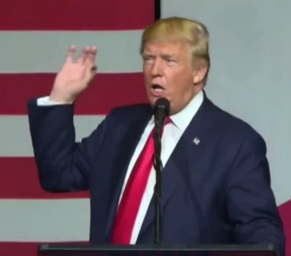 Donald Trump, Speaking at a Rally in West Palm Beach, Florida on October 13, 2016
wallstreetonparade.com / By Pam Martens and Russ Martens: January 12, 2017
The President of the United States is typically viewed as the person whose top job is to inspire confidence in the dignity, integrity and sanity of his leadership of the country. But the presser held by President-elect Donald Trump yesterday, the first in six months and likely viewed by world leaders around the globe, was short on confidence building and long on slandering the American media and U.S. intelligence agencies. In short order, the U.S. dollar took a dive. Trump has yet to assimilate the concept that his words no longer belong just to him but attach themselves like flypaper to the credibility of the most powerful nation on earth.
At times, the press conference felt more like an unruly street fight than a media Q&A by the man who will be sworn in as the 45th President of the United States in just nine days. Trump had his gang lined up on one side: his lawyer, the Vice President-elect, his two sons and one daughter. On the other side was the media, filled with questions on newly leaked documents about Trump's relationship with Russia.
The post Trump, Spy Stories, Prostitutes and the U.S. Dollar appeared first on Silver For The People.
Source:
http://silveristhenew.com/2017/01/12/trump-spy-stories-prostitutes-and-the-u-s-dollar-2/
We encourage you to Share our Reports, Analyses, Breaking News and Videos. Simply Click your Favorite Social Media Button and Share.