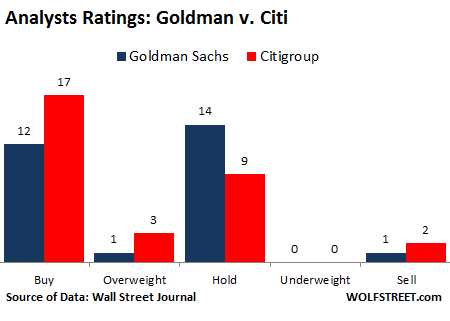 wolfstreet.com / by Wolf Richter • Jan 10, 2017
But bank stocks have skyrocketed over the past three months.
Citigroup hit back at Goldman Sachs, after Goldman Sachs had slammed Citigroup in September. Citi analyst Keith Horowitz, in a note to clients, downgraded Goldman from the already dismal "hold" to a rare "sell" rating, citing Goldman's valuation. He said Goldman would need an additional $4 billion in full-year revenues above current estimates – which, according to Reuters, are pegged at $32.3 billion – to get to a return on equity (ROE) that would justify the valuation.
"While we expect Goldman will see improved trading revenues going forward, the path is relatively uncertain and the bar is relatively high," he wrote.
Goldman is scheduled to report earnings on January 18. So time to take profits and move on, according to Citi.
Shares of Goldman Sachs have jumped 55% since early October when the possibility of a Trump victory started moving into the foreground. Stock market participants have been betting that Trump would be a boon to Goldman, and they drove up the stock price. It was one of the big winners of the "Trump Trade" (via Investing.com):
The post What's Going on with the Banks? Citi Cuts Goldman to "Sell," after Goldman Cut Citi to "Neutral" appeared first on Silver For The People.
Source:
http://silveristhenew.com/2017/01/10/whats-going-on-with-the-banks-citi-cuts-goldman-to-sell-after-goldman-cut-citi-to-neutral/
We encourage you to Share our Reports, Analyses, Breaking News and Videos. Simply Click your Favorite Social Media Button and Share.