When it comes to washing dishes, what could be wrong with a little soap? The thing is, most conventional dishwashing liquids, soaps and detergents aren't just soap. They're filled with toxic chemicals and unspecified substances that are harmful to your health and to the environment. The Environmental Working Group (EWG) recently released 10 low-scoring dish-cleaning products from its database of cleaners. Find out what makes these dishwashing products the worst of the worst.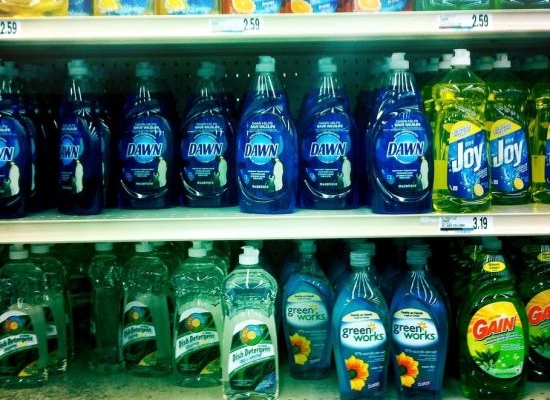 1. Simple Green Naturals Dish Washing Liquid
This dishwashing liquid is anything but green. And, anything but natural. Simple Green Naturals Dish Washing Liquid contains two F-rated ingredients by the EWG: sodium borate and cocamide dea. Although sodium borate is a naturally-occurring mineral, it poses high concern for developmental, reproductive and endocrine disruption—meaning it messes with our hormones. Cocamide dea is a chemically-modified form of coconut oil used as a foaming agent. It's also a possible carcinogen. Besides that, this soap also contains fragrance, which is an unspecified ingredient, and several ingredients that are toxic to aquatic life. (Not so great for a product that goes straight down the drain.) Overall, it earned an F from the EWG.
2. Ajax Dish Liquid With Bleach Alternative, Lime
The lime green color of this dish liquid isn't coming from a lime—or anything natural. This soap derives its look from unspecified "colors", which likely come from one or more synthetic colors identified by the EWG as being suspected of causing cancer. However, because the company doesn't disclose the ingredients that make up its colors, it's hard to say. Other non-specified ingredients in this dish liquid include that always dubious "fragrance", or as the label on the dish liquid puts it "fresh fruit scent", and preservatives. Other than that you'll also find formaldehyde, methanol and a slew of other chemicals that are bad for your health and for the environment. Overall, this dish liquid earned an F from the EWG. READ THE FULL STORY HERE: http://www.jbbardot.com/10-dishwashing-products-to-avoid-altogether-green-living/
Source — Organic Authority — http://www.organicauthority.com/sanctuary/10-dishwashing-products-to-avoid-altogether.html — Written by Kristen Hudson
View THE JB BARDOT ARCHIVES, for more great articles on natural health and alternative life styles