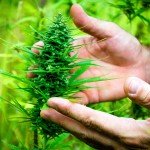 (NaturalHealth365) Steep Hill, considered one of the most reliable agencies in the testing of cannabis, recently released a report on the existence of pesticide contamination in medical marijuana in California.
A shocking 83.2 percent of the samples tested positive for pesticide residue after being assessed by mass spectrometer.
Warning: Pesticide ingredient on medical marijuana becomes poisonous when burned
The most predominant contaminant was the fungicide myclobutanil, an endocrine disruptor and a primary ingredient in the pesticide Eagle 20. Classified as a reproductive toxicant by the California EPA, myclobutanil was found in over 65 percent of the samples.
Alarmingly, myclobutanil – which has not been approved for use on marijuana – is classified as a Schedule 3 substance under the Chemical Weapons Convention. The chemical turns into poisonous hydrogen cyanide when burned, and can be lethal in large doses.
Beyond Pesticides, a D.C.-based environmental watchdog group, notes that the presence of illegal pesticides in legal recreational marijuana markets – such as Colorado, Oregon and Washington State – has been cause for concern.
The current study is particularly disturbing, the group says, because the data specifically concerns medical marijuana, and the impact it may have on users – many of whom may suffer from chronic disease.
Quarantines, recalls and lawsuits rock cannabis market in North America
The presence of Eagle 20 in cannabis caused the Denver Department of Environmental Health to quarantine tens of thousands of Colorado marijuana plants in order to keep them off the market. In 2015, two marijuana users in Colorado – one of whom has a brain tumor and medical marijuana card – sued a marijuana company over the use of Eagle 20.
Last year, two licensed Canadian cannabis producers conducted voluntary recalls of medical marijuana due to the presence of myclobutanil, bifenazate and pyrethrins in the products. The two companies, Organigram Inc and Mettrum, have received a combined total of 18 "adverse reaction" reports, featuring symptoms such as nausea, vomiting, weight loss and respiratory tract infections.
And the fallout continues …
Three weeks ago, Health Canada announced it would conduct random pesticide residue testing to make sure that only registered products are used in the production of medical marijuana.
Inconsistencies in pesticide laws allow contaminated cannabis to enter the market
Because marijuana has illegal federal status in the United States, the government can't conduct its normal registration review – resulting in a "hands-off" policy. Meanwhile, as states continue to legalize the production of marijuana for medical and recreational purposes, various state laws create a confusing and contradictory patchwork of regulations.
Some states, such as New Hampshire, Vermont and Maine, have prohibited the use of pesticides that are not considered "minimum risk" under the federal Food Drug and Cosmetic Act. Other states have adopted requirements stipulating that cannabis must be grown without any pesticides, while still others – such as Oregon and Washington – have set "generally acceptable" levels for pesticide residue.
Beyond Pesticides notes that the recent California samples tested by Steep Hill would have failed under Oregon regulations, which hold pesticide levels to .1 ppm, or parts per million. You can find more information on state policies by clicking this link.
Watchdog group calls for stronger approach to cannabis safety
Beyond Pesticides recommends a three-prong policy, featuring prohibition of the use of federally registered pesticides, the allowance of pesticides that are exempt from federal regulation, and requirements for an organic system that focuses on sustainable practices and the use of 25b – or minimum-risk – products only as a last resort.
Beyond Pesticides maintains it is "crucial" that new, organically-based growing standards be applied to marijuana crops. The group is concerned not only about the damage to individuals, but also the danger to workers – as well as the impact on the environment and wildlife.
The problem of toxic pesticide residue in medical marijuana in California becomes even more infuriating when you consider the fact that a state law — the Medical Cannabis Regulation and Safety Act – was passed in 2015. However, it will not be fully operational until 2018.
Until then, the attitude seems to be "buyer beware."
And – until then – consumers will be essentially unprotected, and vulnerable to dangerous toxic residue on the cannabis they depend on for medical relief.
References:
http://www.cbc.ca/news/canada/nova-scotia/medical-marijuana-cannabis-health-canada-random-testing-1.3971601