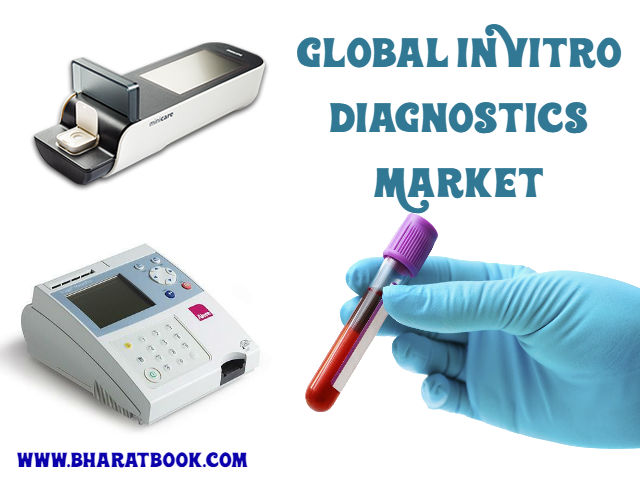 In vitro diagnostics are tests that diagnose and prevent diseases, conditions or infections. IVD tests are performed outside body in an artificial environment on samples such as blood, urine, tissue isolated from human body. IVD is classified into 3 types namely: clinical laboratory testing, near-patient testing, self-testing. IVD market is segmented by-techniques (including immunoassays, point of care, molecular diagnostics, hematology, coagulation, microbiology, clinical techniques, microbiology), product-type (including instruments, reagents, services, data management systems), usability (including disposable, reusable), applications (including diabetes, oncology, cardiology, HIV/AIDS, autoimmune disease, nephrology, drug testing), -end-user (including hospitals, laboratories, academics) and geography (globally).
The global IVD market was reported with high revenue in previous years and hence expected to grow at a high CAGR by 2019. The Asia-Pacific and RoW regions are expected to register a significant growth rate for the In Vitro Diagnostics market. North America commands the largest share while Asia Pacific is the fastest revenue growing region.
IVD market growth is driven by factors such as increase in incidences of chronic and infectious diseases across all age cohorts, genetic diseases, aging population, rising acceptance of personalized medicine, rise in healthcare awareness in patients and high unmet medical needs in diagnosing diseases. Screening initiatives and high investment in healthcare infrastructures mainly contributes to market growth. Whereas, difficulty in rendering rapid diagnostic results, stringent regulatory policies, reimbursement issues and economic crisis are the major growth restraints. Different geographies is an opportunistic factor which improved IVD market growth.
We encourage you to Share our Reports, Analyses, Breaking News and Videos. Simply Click your Favorite Social Media Button and Share.