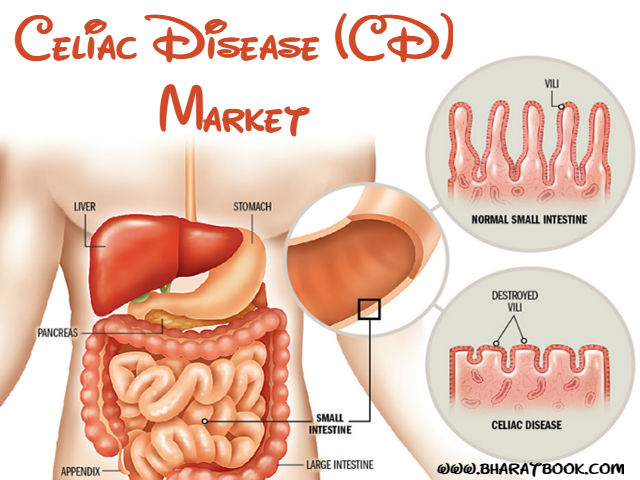 Celiac Disease (CD)- Market Insights, Epidemiology and Market Forecast-2023-EU5" report provides an overview of the disease and global market size of the Celiac Disease for the EU5 countries (France, Germany, Italy, Spain and UK)). It also includes historical and forecasted epidemiological data for the total prevalent and diagnosed prevalent cases of Celiac Disease in EU5 from 2013-2023.
Celiac disease is a genetic autoimmune disease where the indigestion of gluten leads to damage in the small intestine. The number of ways celiac disease can affect patients, combined with a lack of training in medical schools and primary care residency programs, contributes to the poor diagnosis rate. Currently it is estimated that 80% of the celiac disease population remains undiagnosed. Prevalence in Western Europe ranges between 1 in 133. It is higher in relatives of people with celiac disease. Women are affected more commonly than men, but there is no age predilection. DelveInsight forecasts predict that the total prevalent cases of Celiac Disease in EU5 is expected to accentuate up to 3.2 Million by 2023 at a Compound Annual Growth Rate (CAGR) of 2.21% from 2013-2023, while the diagnosed prevalent population of Celiac Disease shall grow at a CAGR of 2.86% for the forecast period (2013-2023).
There is no targeted therapy approved for celiac disease. The current standard of care treatment involves a gluten free diet (GFD). Steroids and immunosuppressants are used to reduce symptoms in severe cases. Owing to the expected launch of Larazotide Acetate (Innovate Pharmaceuticals) in 2021 followed by the launch of Latiglutenase (ImmunogenX/Abbvie) in 2023, shall lead to a hike in the otherwise stable, market size of celiac disease. DelveInsight estimates suggest that the EU5 market size is expected to grow at a CAGR of 49.3% from 2013-2023.
The report is built using data and information sourced from proprietary databases, primary and secondary research and in-house Forecast model analysis by Publisher team of industry experts.
We encourage you to Share our Reports, Analyses, Breaking News and Videos. Simply Click your Favorite Social Media Button and Share.