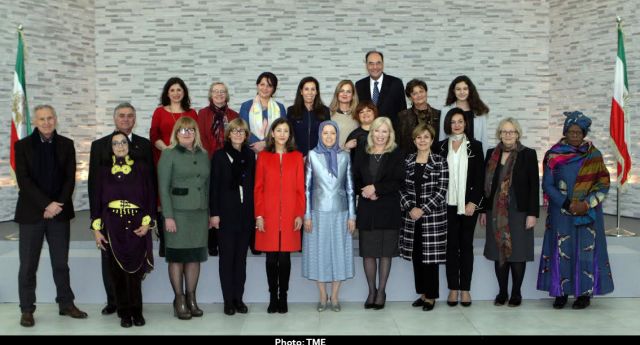 On the eve of International Women's Day, NCRI President-elect Maryam Rajavi spoke at two events, one in Sweden and one in Albania. Both of her speeches focused not only on the role of women in the Iranian resistance, but how women are impacted living under the regime.
In addition to speeches, the IWD celebrations also featured musical performances and documentary video clips on the plight of Iranian women and their 150-year struggle for freedom. A highlight of the event in Albania was the attendance of a group of 1,000 women who had lived 14 years in Camps Ashraf and Liberty.
"In the 1990s, we faced the issue of women's leadership on various levels which changed the organizational structure of our movement. Our women had stepped into a path that had no previous precedent or examples in the past…The main question is how did they overcome the customs and traditions deeply entrenched through thousands of years, and how did they manage to carry on and move forward. The truth is that, this transformation since its inception in our movement, did not aim to simply switch the leadership roles of women and men," said Rajavi during her address in Albania.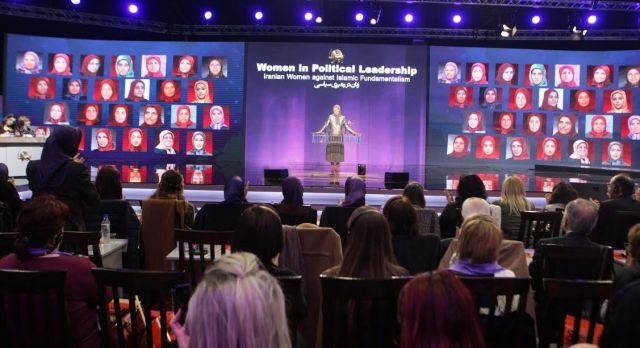 She also focused on how International Women's Day is a reminder of the glorious future for mankind that can occur when women's equality is realized. But she also acknowledged the inequalities that are still prevalent in Iran.
"The mullahs' systematic suppression of women initially started under the pretext of Islam and they took advantage of religion to impose a wide range of restrictions on and discriminations against women, such as the obligation to wear the mandatory veil," said Rajavi in her remarks in Sweden.
Rajavi also spoke about how the Iranian regime's place on the international stage impacts women in Iran. She noted that according to the mullahs' Sharia law, many activities of women, including ownership, travel, leaving home, education, and employment are contingent on the decisions and desires of men.
"First is the fact that the Iranian regime, in conjunction with its export of terrorism and fundamentalism to the region, is also the prime advocate of misogyny in those countries. Therefore, it should be considered as the most dangerous threat to women's achievements in today's world…Women bear the brunt of repression in Iran, reveals the regime's defensive tactic against the existential threat it feels from women," said Rajavi in her remarks in Albania. "The point I would like to make is that for decades, women's struggles and the International Women's Day have focused on the elimination of inequality and violence against women as their objective. Today, however, women have a mission beyond these goals, of saving humanity from fundamentalism and terrorism."
Throughout her addresses, she focused on how women's leadership within the resistance has grown from overcoming the monster of internalized disbelief in their own abilities and a lack of self-confidence. Instead of being passive, Rajavi noted that these women assumed responsibilities and relationships based on camaraderie and sisterhood.
"The message is that women's leadership can become a lasting institution and tradition only when it is necessarily supported by men who have faith in, and are committed to, the ideal of equality, and who accept their rightful responsibilities in this regard," said Rajavi.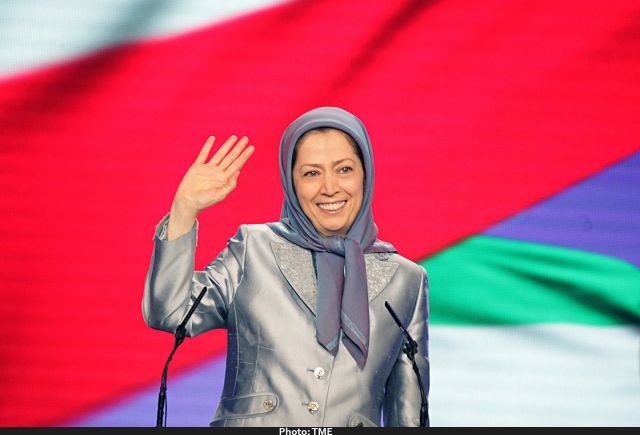 She also spoke of how men, who defend the cause of women's equality and reject the outlook that women are mere commodities, were part of the process that allowed women to claim their status of equality and that leads to better relations overall with a freedom from negative judgement and competition, as well as narrow-mindedness and prejudice. But for Rajavi, that goes beyond the political and legal realms into the personal and social arenas, where women take ownership of their own fate and men develop a productive, creative and active character in themselves.
"A regime that prevents the participation of a great portion of the populace in running their country's affairs, ends up with absolute tyranny, totalitarianism, monopoly of power, secret decision-making, corruption and repression, with the country's wealth and resources wasted," said Rajavi.
Just prior to this meeting, data collected from the Iranian state-run press identified 75 women who have been executed during Rouhani's presidency, although other sources acknowledge that this number could be higher, because executions have been carried out in secret in the past. This is just one example of the oppression and violations of their human rights that women currently endure in Iran.
We encourage you to Share our Reports, Analyses, Breaking News and Videos. Simply Click your Favorite Social Media Button and Share.