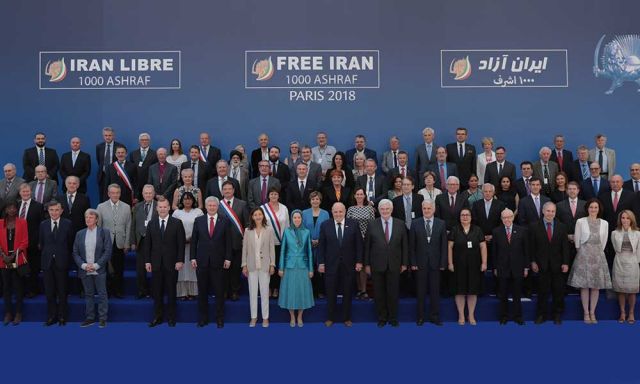 Throughout the Free Iran rally on June 30, which was held in Paris, many different leaders from various countries came together to give support for regime change and a free Iran. These members of the international community pointed to how changing U.S. policy under the Trump administration is playing a role in the continuing weakness of the regime, along with the increasing protests and economic realities facing the current Iranian leadership.
One by one, each delegate expressed support for the National Council of Resistance of Iran (NCRI) and its President-elect Maryam Rajavi.
Several countries from the Middle East, including Palestine, Jordan, and Morocco, showed their own support for the resistance.
"I appreciate your struggle to fight for human rights and women's rights in Iran. We are with you. We support the UN on human rights and women's rights. We stand with you. We know also that the government of Iran is intervening in Iran in a very negative way and that is one of the reasons that we cannot get peace in the region, with Iran creating secratism instead of democracy," said Nejat al-Astal, a delegate from Palestine.
She touched on the reality of the Middle East right now, one where the mullahs have funded interference into multiple governments and supported various factions to create divisions. In Lebanon, Hezbollah is funded by the Islamic Revolutionary Guard Corps (IRGC) and has become a political party with Iranian influence. The Syrian government led by Assad is being propped up by the regime, while rebels in Yemen receive arms from the mullahs in Iran.
"For 40 years, this regime has intervened in our other countries and now they will go down. Some people are trying to discredit this revolution, but they will not succeed…The Arabs who want to confront this regime in Iran should support the Iranian opposition and the MEK as we will win with the MEK," said Saleh al-Qalab, a delegate from Jordan.
It must also be noted that Khamenei ordered a crackdown on social media in Iran, so many delegates encouraged the group to make the rally prominent on social media in response.
"I'm glad to be here among you and I will always support you…Everything has reached the limit. This dictatorship has reached the limit. All the people of Iran are out in the streets, their only weapon is their bodies. Their only hope is regime change. This regime has lost its credibility," said Najimeh Tahitian, a delegate from Morocco.
It is clear that the support of the international community will allow the Iranian people and their resistance to keep moving toward success.
We encourage you to Share our Reports, Analyses, Breaking News and Videos. Simply Click your Favorite Social Media Button and Share.