Headline: Bitcoin & Blockchain Searches Exceed Trump! Blockchain Stocks Are Next!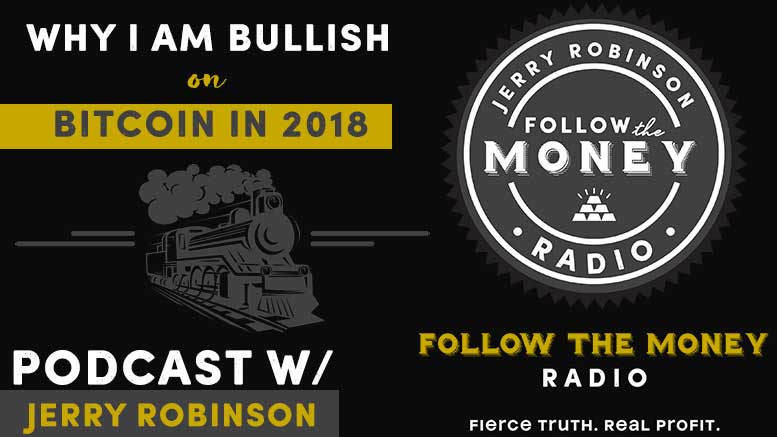 Welcome to Follow the Money Radio! The famed investor Warren Buffett recently said that Bitcoin is in a bubble and will end badly for current investors. In this week's broadcast, long-time cryptocurrency investor Jerry Robinson examines Buffett's bearish claims and explains why he remains bullish on Bitcoin in 2018. Later, our 2018 price forecasts on gold, silver, palladium, and platinum.Subscribe on iTunes | Download

Segment 1: Why I Am Bullish On Bitcoin in 2018 w/Jerry Robinson
Segment begins at 00:40
On this very first podcast of 2018, Trading Coach, veteran Bitcoin investor, and teacher-at-heart Jerry Robinson examines the widespread lack of general knowledge about the revolutionary Blockchain technology, and explains the reasons behind his belief that cryptocurrencies are just getting started.
It's official! We are now Followthemoney.com
The crucial need for diversification in this market environment
Timeless Wisdom: Don't mix your politics with your trading
The current boom-and-bust nature of the cryptocurrencies
Bitcoin is merely the first application of the Blockchain technology
Bitcoin and Blockchain technology: The genie coming out of the bottle
Recommended Links
Warren Buffett On Cryptocurrencies
Cryptocurrency Market Capitalizations
Five Levels of Financial Freedom
Bankruptcy of Our Nation by Jerry Robinson
https://followthemoney.com/why-i-am-bullish-on-bitcoin-in-2018/?mc_cid=fbdfc1b456&mc_eid=631c3d478e
Read more great articles here: https://followthemoney.com