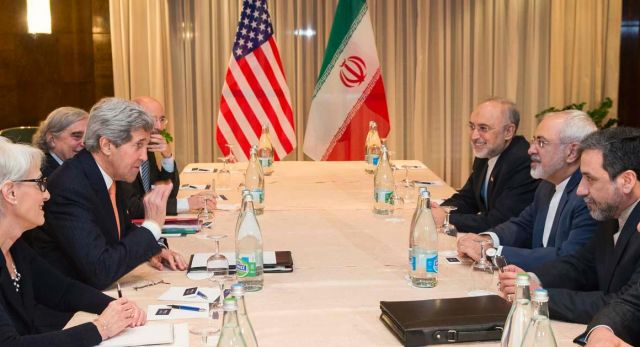 In this speech about an hour ago, Secretary of State John Kerry discusses the resolution to the long-running nuclear talks with Iran.
He mentions an agreement and says "this is the good deal that we have sought."
I can't believe that removing sanctions and giving Iran tons of money will encourage them to behave, since under 13 years of economic sanctions they still managed to create enough nuclear material for 10-12 yes TEN to TWELVE – atomic bombs. They still have centrifuges, they still have stockpiles of enriched uranium, they still chant "Death to Israel" and "Death to America." And their leaders still believe that the glorious end times in which Islam conquers the world under their end times savior – the Mahdi – can be brought on by starting an apocalyptic war in which they can die gloriously as martyrs.
I find it interesting that America seems to be fulfilling the biblical role of Mystery Babylon – and that ancient Babylon was betrayed to the Persians by a traitor from within. For all my conclusions on how this ends, read:
Antichrist 2016-2019: Mystery Babylon, Barack Obama & the Islamic Caliphate
Yet somehow, John Kerry says, "for the next 15 years, no uranium will be enriched beyond 3.67 per cent." And then he says this is appropriate for research but not nuclear weapons. And that Iran has agreed to only use some of their centrifuges to enrich more uranium. Their Fordow facility will be converted to just conducting scientific research. Kerry also acknowledges Obama's "courage" in reaching this agreement, and says: "No part of this agreement relies on trust." He also said "We have not made concessions." Yeah right. Iran has consistently denied access to its facilities.
Iran has lied and hidden a military nuclear weapons program already, while being the biggest state sponsor of many terrorist groups. Yet John Kerry says we should take them at their word now.
I don't trust John Kerry, let alone Iran.
I imagine an Israeli response will follow soon…
We encourage you to Share our Reports, Analyses, Breaking News and Videos. Simply Click your Favorite Social Media Button and Share.