The Israeli military said 45 rockets and mortar shells were fired at Israeli territory from across the Gaza border [Anadolu]
---
6-20-18
Israeli jets have attacked 25 targets linked to Hamas in the Gaza Strip, after the group launched rockets and mortar shells at Israeli territory, the military said.
JERUSALEM (JTA) — Residents of southern Israel spent the night running to bomb shelters and safe rooms as some 45 rockets and mortar shells were fired from Gaza.
The rockets were fired early Wednesday morning beginning about an hour after Israel Air Force jets fired on three military targets in a Hamas compound in the southern Gaza Strip "in response to the repeated launching of incendiary kites and balloons with explosive devices attached to them from the Gaza Strip into Israeli territory," the IDF Spokesmen's Unit said.
The Iron Dome missile defense system intercepted seven of the rockets and three landed inside Gazan territory.
At least six of the rockets fired from Gaza landed inside Israeli communities near the border, including one that landed inside the courtyard of a kindergarten building. The rest landed in unpopulated areas of southern Israel.
The Israel Defense Forces responded to the rocket and mortar attacks by firing on 25 terror targets in Hamas military bases throughout Gaza, the IDF said in a statement.
The IDF in the statement accused Hamas of "targeting Israeli civilians throughout the night with a severe rocket attack and dragging the Gaza Strip and its civilians down a deteriorating path and an escalation" of the conflict.
Hamas in Gaza in a statement called its shooting of rockets at southern Israel "a legitimate right. The message of the shelling is to confirm that the resistance is determining the rules of engagement and will not allow the enemy to impose any new equations," referring to Israel's new policy of firing on Hamas targets in Gaza in response to the incendiary kites and balloons.
The IDF said in a statement posted on Twitter that: "The #Hamas terror organization is responsible for all events that transpire in and emanate from the Gaza Strip and will bear the corresponding consequences for its acts of terror targeting Israeli civilians." The IDF also tweeted that it "views Hamas' terror activity with great severity and is prepared for a wide-variety of scenarios and will continue operating to fulfill its mission to defend Israeli civilians."
Early on Wednesday afternoon, the #IDF fired on a group of Palestinians launching arson balloons from the southern Gaza Strip.
---
Major Gaza Escalation: 45 Rockets Fired at Israel, IDF Strikes 25 Hamas Targets
James Yackel
Israel and Palestine exchange FURIOUS rocket fire as Middle East conflict RAGES – DAILY NEWS
Daily News
A FURIOUS exchange of shelling has taken place in the Middle East between Israeli troops and Palestinian supporters in Gaza, as the conflict between the two nations continues to rage on.
Major Gaza Escalation: 45 Rockets Fired at Israel, IDF Strikes 25 Hamas Targets
Army says warning shot fired at incendiary balloon launchers in Gaza ■ Seven rockets intercepted, one lands near Israeli kindergarten
Some 45 rockets were fired from Gaza toward Israel overnight on Tuesday after the Israeli military struck Hamas infrastructure in the Strip in response to burning balloons being launched from the enclave into Israel.
---
Israeli jets carry out strikes in Gaza
Exchange of Israeli air raids and Palestinian rockets over Gaza border has been one of most intense in recent weeks.
Israeli jets have attacked 25 targets linked to Hamas in the Gaza Strip, after the group launched rockets and mortar shells at Israeli territory, the military said.
Three Palestinians were lightly injured during the attacks in the early hours of Wednesday, residents said. The exchange was one of the most intense recent barrages of rocket fire and air strikes.
No casualties were reported in Israel. Air raid sirens and Israeli phone warning applications sounded throughout the predawn hours.
The Israeli military said 45 rockets and mortar shells were fired at Israeli territory and said its Iron Dome anti-missile shield intercepted seven rockets.
While Hamas praised the rocket attacks from Gaza into Israel on Wednesday, it did not take responsibility for them.
Hamas spokesman Fawzi Barhoum said it was time for new rules of engagement, where "bombing is met with bombing".
"It's the Israeli occupation that started the escalation.The resistance has warned against continuing to target civilians, fishermen, farmers, and resistance positions.
"It's time to … present new rules of engagement: bombing is met with bombing. Whoever began the escalation should be responsible for the consequences.
"The resistance is not interested in a new war at all, but we always want to defend the Palestinian people.
"The peaceful demonstrations in all forms will continue on the eastern border and the Palestinian resistance will be ready to protect Palestinian civilians and defend them."
Palestinian rocket fire came hours after the Israeli military said it struck Hamas infrastructure in response to "arson balloons" launched from Gaza into Israel.
Israel has carried out air raids in the Gaza Strip over the past few weeks, saying it was retaliating for Palestinians setting fire to Israeli land. In recent weeks, Palestinian protesters have used flaming objects attached to kites to set fire to agricultural land just over the border fence with Israel.
Al Jazeera's Harry Fawcett in Jerusalem said that over the last few days, "a number of incendiary kites and balloons [have been] flown from Gaza into Israeli territory. They (the kites) have lit dozens of fires."
"In response to that, we've seen some strikes from the Israeli air force on Hamas targets.
"Last night, that escalated with more than 45 rockets being fired from Gazan territory into southern Israel and areas bordering Gaza Strip. In response, [Israeli forces] struck 25 separate Hamas targets.
At least 127 Palestinians have been killed by Israeli troops during mass demonstrations and 3,000 have been injured along the Gaza border since March 30.
Israel's tactics in confronting the weekly Friday protests have drawn international condemnation.
The demonstrations have been staged by Palestinians demand the right to return to homes their families fled or were driven from following the founding of Israel 70 years ago.
Around two million people live in Gaza, most of them stateless descendants of refugeesfrom what is now Israel. The territory has been controlled by Hamas for more than a decade, during which it has fought three wars with Israel.
Israel and Egypt maintain a blockade of the strip, citing security reasons, which has caused an economic crisis and collapse in living standards over the past decade.
SOURCE: AL JAZEERA NEWS
---
Israel Code Red Alert! Rockets Fired into Israel After Flaming Kites and Explosive Condoms Dangerous Terror Reigns Again! (Video) click here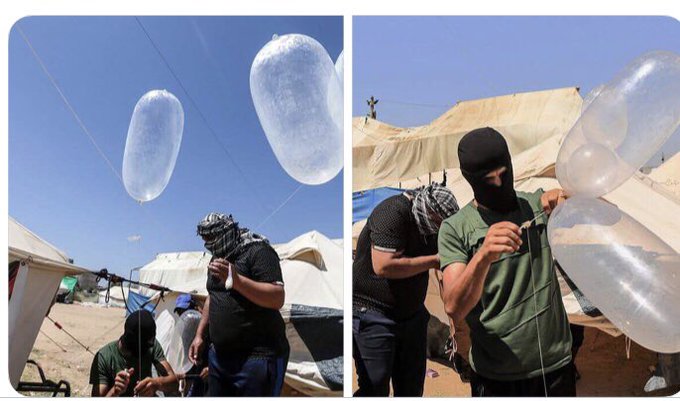 Palestinians in #Gaza are using condoms instead of balloons to fly them into Israel with flaims.
---
A kite flies over the border in an area where kites and balloons have caused blazes, between Israel and the #Gaza strip June 8, 2018. . (photo credit: AMIR COHEN – REUTERS)
---
#prophecy #middleEast #israel #war #ww3 #geopolitical #globalunrest #peaceandsecurity #terror
THIS ARTICLE ENDS HERE AND ANY FOLLOWING ADS ARE NOT ENDORSED BY Jonathan Lee
We encourage you to Share our Reports, Analyses, Breaking News and Videos. Simply Click your Favorite Social Media Button and Share.