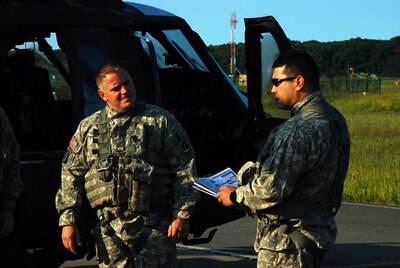 By Eric Durr New York National Guard
LATHAM, N.Y., Sept. 11, 2017 — The National Guard's response to Hurricane Irma continued today as 10 New York Army National Guard UH-60 Black Hawk helicopters and 55 soldiers left for Jacksonville, Florida.
The aircraft came from Army Aviation Support Facilities in Rochester, Latham, which is near Albany, and Ronkonkoma on Long Island. Three aircraft came from Rochester, four from Long Island and three from Latham.
The aircraft are capable of moving supplies or personnel from confined locations or in areas with limited access. Six of the 10 helicopters are equipped with hoists.
The soldiers on the mission are assigned to Alpha and Bravo companies of the 3rd Battalion, 142nd Aviation, based in Latham and Ronkonkoma, respectively, and Charlie Company (Medical Evacuation) of the 1st Battalion, 171st Aviation in Rochester.
En Route to Florida
The aircraft were slated to fly today to Richmond, Virginia, where they will conduct maintenance and get further information on the situation in Florida, according to Army Maj. Paul Baille, the executive officer of the 3rd Battalion, 142nd Aviation.
Their mission could start out being search and rescue, and will then likely shift to flying critical personnel and supplies and then general airborne transportation, Baille explained.
Some of the soldiers who are part of the mission flew missions along the Gulf Coast following Hurricane Katrina and others have experience in flying missions following Superstorm Sandy in 2012 and Tropical Storm Irene in 2011, said Baille, who served during Katrina as an aviation liaison officer.
Army Capt. Forrest Thrush, a member of Alpha Company, said that he would take his cue from the unit members who had experience flying in support of previous weather emergencies. "I'll learn from them," Thrush said.
Aviation Task Forces
Once the New York helicopters arrive in Florida, they will be assigned missions by the Florida National Guard, which will organize aviation task forces, Baille said.
On Sept. 7, the New York Air National Guard's 106th Rescue Wing deployed 130 airmen with three HH-60 Pave Hawk rescue helicopters and two HC-130P/N King search and rescue aircraft. The helicopters and airmen, who are based at Gabreski Air National Guard Base in Westhampton Beach, New York, were carried in two C-17 Globemaster IIIs assigned to the 105th Airlift Wing from Stewart Air National Guard Base in Newburgh.
The team based out of San Juan, Puerto Rico and conducted missions in the U.S. Virgin Islands.
The wing also conducted evacuation operations on the island of St. Martin in conjunction with airlift wings from Puerto Rico and Kentucky. Using six aircraft, the three wings moved 1,582 Americans from the joint French- and Dutch-administered island to Puerto Rico so they could return home.
Today, the wing moved from Puerto Rico to Florida to support operations in that state if required.
Deploying Aircraft
The 106th Rescue Wing also deployed a third HC-130P/N from Gabreski Air National Guard Base to transport additional personnel from the Kentucky Air National Guard's 123rd Special Tactics Squadron to Florida.
The New York Air National Guard's 105th Airlift Wing also moved a Joint Incident Site Communications Capability system to Mississippi yesterday. The JISCC system allows airmen to rapidly set up internet and other communications capabilities during natural and manmade disasters. The system was staged in Mississippi to await movement into Florida if required.
And on Sept. 9, a C-130 Hercules aircraft assigned to the New York Air National Guard's 109th Airlift Wing in Stratton Air National Guard Base, outside Schenectady, flew to St. Croix in the U.S. Virgin Islands where hurricane damage was particularly severe with medical supplies and emergency food rations, returning to New York yesterday.
Source:
http://military-online.blogspot.com/2017/09/new-york-guard-sends-helicopters.html
We encourage you to Share our Reports, Analyses, Breaking News and Videos. Simply Click your Favorite Social Media Button and Share.