A Tsunami Of Truth Flooding Internet From Obama-Cousin Linda Joy Adams.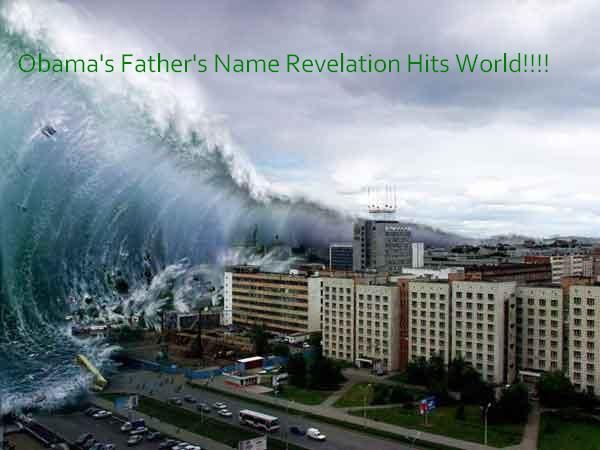 This is what Linda Adams sent to a website today (she announces Obama's father's name has been released and to whom, very important and famous people – this is the gamechanger we were waiting for!):
….its a convoluted famiy 100 year tragedy that starts for him with the murder of his real dad in a raicst attack on both his parents and he, unborn; on the banks of the Kansas eiver that left three dead and no justice for 50+ years. Lt Zullo of Sheriffs Joe's. cold case called me and he has the name as well as The sec of state of Ks, etc….

http://www.politicalchips.org/profiles/comment/list?attachedToType=User&attachedTo=0knqfe1skjwjb&commentId=4095899%3AComment%3A165241&xg_source=activity

(it's in the comments.)
She also sent this on her blog a few minutes earlier:
….I have given the Dad's name of the president to every law enforcement and govt official I have spoken to and that includes Lt Zullo from Sheriff Joe Arpaio's Cold case posse. when he called me. He is a profesisonal and felt he could be trusted to be discreet as innocent parties, i..e another extended family does exist out there. And one is supposed to cooperate fully when a criminal investigation is being conducted. They need to have a personal visit and I did try to contact one person, I thought could go talk to the family I think still lives there last Fall and they didn't want to get involved, seemed scared to be involved. There's lot of fear over this.
Its an open murder case, remember and someone might still be prosecuted if alive and the case is ever solved….

http://lindajoyadams.blogspot.fr/2013/04/daily-recap-4113-pres-obama-cases-on.html
Minutes later she wrote this again:
….Started online 7/26/12 and In Daily recaps since, as its a journey for truth and justice. Lt Zullo called me and he has the name of the real Dad,(99% sure) murdered in a racist attack on the parents egged on by a gossip frenzy from Westboro Baptist where Stanley Ann had been sent to stay and go to school…..

http://reclaimourrepublic.wordpress.com/2013/03/25/video-sheriff-joe-arpaio-may-investigate-claims-

by-obamas-purported-cousin-kansas-birth-announcements/#comment-489
————————————————–
Adams is flooding Internet with the good news. Help her by doing it too. You'll go to heaven if you join the Messengers of the Apocalypse now but don't wait one second. This is now. Don't be late.
—-
Mike Zullo confirms he's got the name and it's under investigation.
We encourage you to Share our Reports, Analyses, Breaking News and Videos. Simply Click your Favorite Social Media Button and Share.