I'm being targeted by Obots saying I'm not reliable to say Obama's the Antichrist. Those people are the false christs of the Bible. They say I'm the Antichrist.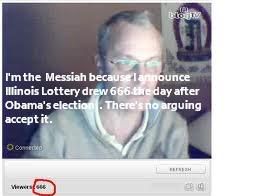 Videos show clearly that Obama's marked by 666 and that this is a sign sent by heaven:
Obama's State Lottery Is 666 Day After Win
.
Obama – The Lottery and 666 – You have GOT TO SEE THIS! What are the CHANCES?
I'm not the two characteristics to be the Antichrist and which clearly Obama is: I'm not the most powerful man in the world nor was the 666 lottery drawn in my city, like it was in Chicago, for Obama. Obama qualifies totally and entirely because he's the world's most powerful man and the 666 Lottery draw was in his city of Chicago, Illinois. Dozens of millions saw and no one was able to ignore that the lottery drew it. In the five Great Lakes States they all play the IL. lottery and saw it broadcast live. (Illinois, Iowa, Michigan, Wisconsin, Indiana.)
Now concerning me and not Obama, I'm the "Messenger of the Apocalypse" aka the "reluctant messenger" (Messiah) because I tried to find Christians to reveal the Apocalypse but found none. They said I'd have to be the Messiah to announce that Obama was the Antichrist. I seeked to find Christians to unload this burden upon. None came forth. Thus I, a Buddhist, had to shoulder this Christian burden alone.
I'm not involved in any way with the Christian Apocalypse and am entirely devoted to the Buddhist Apocalypse (announced in the Kalachakra Teaching) being a religious Buddhist since 42 years now. I have no connections to Christianity, seeing I consider it to be an evil faith and my faith of Tibetan Tantric Buddhism is the highest, because it has Tantric Yoga (sexual) which alone enables to attain Nirvana. Thus, I'm an outsider and the reluctant messenger of the Apocalypse which is announced in the Bible for the Messiah. I'm the ONE and I'm HIM. I'm announcing the Apocalypse NOW RIGHT NOW.
Tibetan Tantric Buddhism has a bridge over to Christianity because the evil demonic being, which is predicted in the Buddhist Apocalypse, is described as having Obama's mixed faiths of Islam, Christianity and Judaism which he combines together, such as one can see (and it's known) that Obama has. Obama's got a faith akin to Creole voodoo which mixes all faiths in him, Obama.
My destiny thus, as the Saviour of Buddhism, indeed clearly intersects with the Christian Apocalypse, in accord with the Buddhist scriptures and prophecy. Yes, the demon-king of Buddhist Apocalypse is the Antichrist of Christian Apocalypse. And they are all one single person: Obama. Taht's the truth. No other truth is valid.
We encourage you to Share our Reports, Analyses, Breaking News and Videos. Simply Click your Favorite Social Media Button and Share.