Video: Caution: Alan Colmes Head Explodes Over Birther Issue; Proves Liberalism Is Mental Disorder
Alan Colmes is a person with grave mental disorder. In a dramatic video, three callers one after the other tell Colmes Obama's not got any birth certificate. Colmes goes totally crazy and yells into the mic.
His logic to blow his top and feel he's soooo righteous is that: "Why do we ask Obama for his birth certificate? We never asked any other president for that."
Well, Colmes' blowing up and yelling "BECAUSE HE'S BLAAAAAAAAAACK!" isn't justified. Colmes goes all out, into the black hole of the race card.
We knew where the other presidents were born mostly. Abraham Lincoln played around making footprints on the ceiling of the house he was born in.
Lincoln's birthplace.
Bill Clinton's house of birth is a museum in Little Rock.
Bill Clinton's house of birth.
Alan Colmes' full meltdown on that radio show.
Reagan's house of birth in Tampico, Illinois.
Bush was born at New Haven's Grace Hospital, like me, Geir Smith.
Maybe the same room!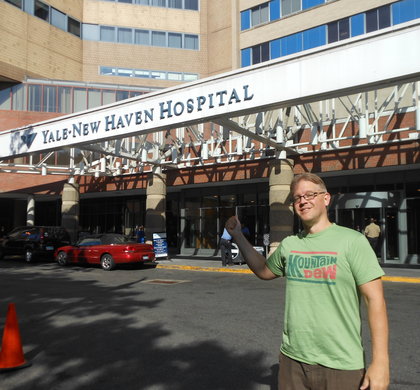 It's called Yale-New Haven now. That ain't me.
So we know everything about the presidents. And the reason we're asking about Obama's past is because he's not forthcomng about anything. Does he work for the CIA? Is he a mole?
What's funny is how hysterical Colmes is. Let's go get in the other Obots' faces now. Don't give them any breathing room. Harrass the Obots. Where's Obama's birth certificate?
We encourage you to Share our Reports, Analyses, Breaking News and Videos. Simply Click your Favorite Social Media Button and Share.