By Geir Smith, King of Shambhala aka Rudra Chakrin the Universal Messiah.
Editing Wikipedia is easy and that's how Wikipedia works and in fact that's how it's advertised to be.
But if you're editing into it that the Messiah, the Lord and Saviour Barack Hussein Obama is the Antichrist you've got trouble such as the CIA crawling all over you. ROFLMAO!
The problem is the CIA because of these people snooping on my Internet work for three-four years because this throws into evidence the link to feds, government involvement and spying.
Since I tried to edit Wikipedia a few years ago Wikipedia kicked me out with a threat that they'd make a shadow website to monitor everything I wrote on Internet. Baffling enough, they DID IT!!!!!!!!!!!!!!!
Even yesterday as I was on another article ("The Messiah's On FBI Watchlist"), discussing making this article about editing Wikipedia, I got more threats online. Those threats come from the same one who made death threats (which threats I'm going to report to the police). This is what happened yesterday: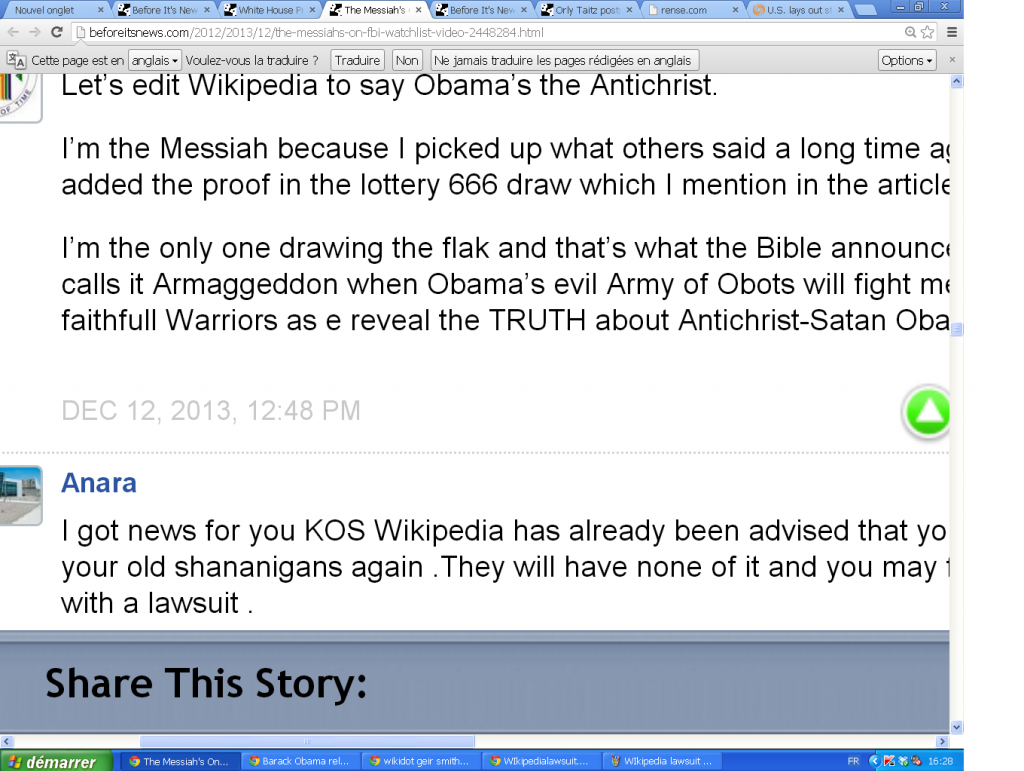 But what are the links of these weird, strange (trolls, Wikipedia editors, Obots, whatever…. they're a strange mix of Hard Left extremists and a mixed bag of garbage) people to the NSA/CIA? How can they threaten and get away scot-free? Shouldn't they all be banned from BIN?
The problem is this troubling link to Wikipedia which is still unbroken till today as wikidot's website (I counted 9 pages in all at the last time I checked) about me proves clearly.
>Merkin said: "He doesn't care that his actions may have put him on a CIA watch list".>
The problem is that these people aren't paid to give up.
We should seriously think about going back and editing Wikipedia.
That's where it started from.
That's when these guys alerted the CIA that Obama had a serious problem called Geir Smith (King of Shambhala Rudra Chakrin).
We've got to root out these moles by the way they came: by Wikipedia.
It's really easy.
We go to the pages called "Barack Obama religion conspiracy theories".
Then scroll down to the paragraph called "Claims that Obama is the Antichrist"
This is the page: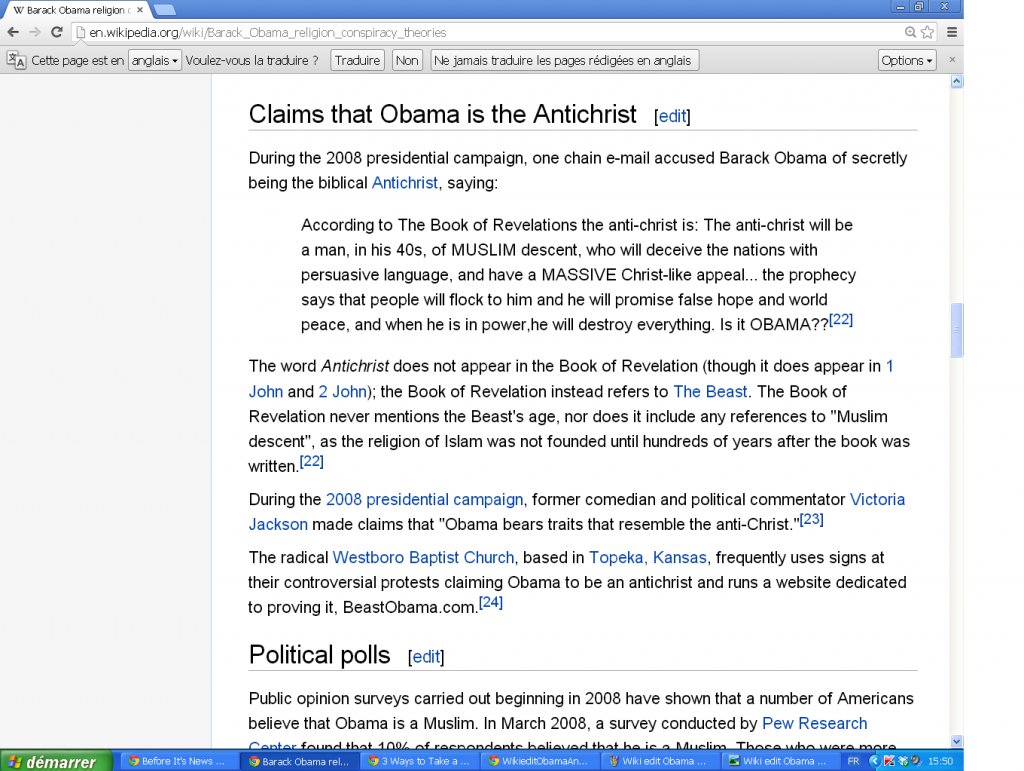 You can go to the the "View History" page and check out the November 5 edit where someone wrote that Obama is the Antichrist.
I've got something interesting to do in connection with that. But I'll keep that secret.
Now, what would be good would be to go and edit that paragraph "Claims that Obama is the Antichrist". Remember that Wikipedia's goal is for everybody to edit it. It's not a closed club. Nobody is unqulaified to edit it.
You can all go edit it and Wikipedia encourages you to do so. Don't listen to trolls or liars who tell you you're not allowed to edit WIkipedia!
Damn it! They're the ones who are not allowed to edit Wikipedia if they tell you that!
Don't bow down to threats from criminals who are trolling and threatening in BIN's comments, like the first screenshot of this article.
I've got three things to add to that section "Claims that Obama is the Antichrist.":
(they have to be redacted right to conform to Wiki standards, let's discuss tht as we go along, but here's just the gist of them)…..
1. World-famous Pastor Jack Van Impe says Obama's the Antichrist – I have the references which are solid.
2. Newsweek aired an article the week after Obama's election asking "Is Obama the Antichrist?" by Senoior Editor Lisa Miller. She said that the Chicago Lottery in Obama's hometown drew 666 the day after Obama's election. That's the well-known Mark of the Beast of the Antichrist. I have the Newsweek reference.
3. One in eight people think Obama's the Antichrist by a world-standard serious survey by the famous newpaper The Guardian of London. – I have the reference from the Guardian of London.
—
Get back to me for the final cut of the edits and the links to be provided. Work with me on the details through my e-mail: geir.smith@yahoo.fr Never edit alone, always in group work. You'll be targeted by the powerful Obama lobby immediately. This is tricky work: akin to disabling mined territory. Work in groups and watch your backs. Be aware of the dangers and work with an alert system for if rodents attack you so as to have the pesticide at the ready with the Emergency Team ready to pounce.
Let's speak about rodents or else they'll start threatening that these are death threats ROFLMAO. Spray all rodents with lots of gas whenever they show their beady little noses at the corners. The spray nozzles have a round-the-corner feature. So you just nozzle around each corner and spray whatever's back there. Don't take any prisonners. Spray the rats out of this world and into the next.
———
This Wiki-editing is necessary because I'm being spied by these people since three-four years and they made the wikidot website BECAUSE I want to edit Wikipedia. The only reason they're still around and swarming like varmit is because they fear when I return to do it. Let's GOOOOOOOOOOOOOOOOOO!!!!!!!!!!!!!!!
I'm making this new article because I'm really convinced that the Obots are scared of this. Can Obama really fall on this issue? OK? Ready.
What I know is this will be the Mother of all BATTLES.
We encourage you to Share our Reports, Analyses, Breaking News and Videos. Simply Click your Favorite Social Media Button and Share.