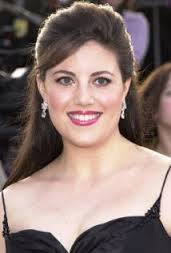 Yeah, I just found this and am still processing it mentally. Now, they may have acquired another blue dress. But, it has just dawned on me this is one of those, "We'll have our cakes and eat it, too." In other words, "We'll take down Bill Clinton (Mike Volin, Sermon Dyess, Jr, Bush, Jr, etc, without exposing ourselves).
In the mid 1990′s Mike Volin and Sharon Rondeau came to me, we were in Pablo's old Montura Ranch House, and asked about the blue dress and if I wanted to testify against Clinton. By default Graham's rape of my younger brother would have been opened up again as well. I said no because, once again, I do not know who I've been living with for the past 24 years (Gainesville College Campus slaughters, Tiffany Sessions, which is complicated).
They may try to use this Monica Lewinsky issue to discredit me. Again, they may have substituted another blue dress with Lewinsky and Clinton's DNA. HOWEVER, I have no doubt Lewinsky was set up to do this "affair" deliberately.
I was told by Volin that they would put an actress in my place and Lewinsky was it.
I FORGED OBAMAS BIRTH CERTIFICATES FOR THE MEDELLIN CARTEL IN 1985. Nothing changes that fact and Mike Volin needs to cough up the truth. Jean Sisk was murdered by me at Pablo's compound just after you assured her that she was safe. This is one of two reasons why I didn't move forward on the blue dress.

http://thehill.com/blogs/in-the-know/221266-lewinsky-tears-up-in-public-speech
We encourage you to Share our Reports, Analyses, Breaking News and Videos. Simply Click your Favorite Social Media Button and Share.