Racists are at it again. Whenever they can, the Right goes hating on blacks and ranting racist rants.
The fascists are always there, waiting in the wings. The Right-Wing is fascist, I want to say it loud and clear.
When we use the word "Fascist", remember tho that it contains the word "Socialist" as in National "Socialist" aka Nazi.
Socialist should not be in the word "Fascist" because it smears Socialism, and Communism too – because Communism also uses the word Socialism for itself.
Socialism isn't the same as Hitler but they use the same name. It's disturbing to say the least, because one wonders how a Socialist like Hitler could do the evil he did. Socialism doesn't deserve the rap from Hitler. Socialism has gotten better since Hitler.
Socialism isn't the same now as during Hitler. It's gotten much better. It's not perfect though. Far from it. It's still got some memories of Hitler and veers off into Totalitarianism whenever it goes off script and loses it's self-control.
also see here for me….I belong to an old Norwegian aristocratic ROYAL family including Count Tolstoy (Leon Tolstoy, the famous Anarchist theorician inspired the Russian Revolution but at the same time was the scion of oldest Russian royalty: 11th cent. Chernigov Princes), Henrik Ibsen, Papal and Royal Chamberlains, many Members of Norways Royal Household, (Mistresses of the Robe) barons and counts, ambassadors. All those who fail to heed heaven's voice (the lottery draw of 666 below) will be thrown into hell in the end times says the Bible. Indeed, heaven SPOKE!: the day after Obama's election the lottery in his homestate drew 666 revealing that Obama's Mark of 666 is his money. Check the lottery numbers in Obama's homestate here : the Pick 3 of Nov 5, 2008 was 666, less than 24 hours after Obama's election!! I alone reveal this worldwide. That fact makes me the Messiah and Jesus' Second Coming. seeing there's no one else to speak up.
Tibetan Tantric Buddhism is the highest form of culture in the world and I follow it's Kalachakra creed. Buddhism and Hinduism never carried out war like Christianity and Islam (That's the worst thing existing in the world.)
In 1999, I was recognized as the reincarnation of a disciple of the highest Sakyapa lama of Tibet. I'm working on revealing myself and my message to the world fast now so the Apocalypse blows. My message of truth shows the way and must be revealed not only here at BIN (the only place in the world where speech is free), but worldwide! The lying Antichrist Camp of Obama is infesting my articles with trolling from such criminal orgs as "Organizing for Action" so don't follow anyone opposing me here, as they are the homo trolls supporting the Antichrist's murderous homo-agenda (US gov source CDC says 95% of HIV is due to homos.)! Criminal incitment of violence in comments will be dealt with legally in court and banned (I got two trolls banned for death threats to me) and the writers banned from BeforeItsNews for TOS breaches.
——
Michelle Obama 'ape in heels' post causes outrage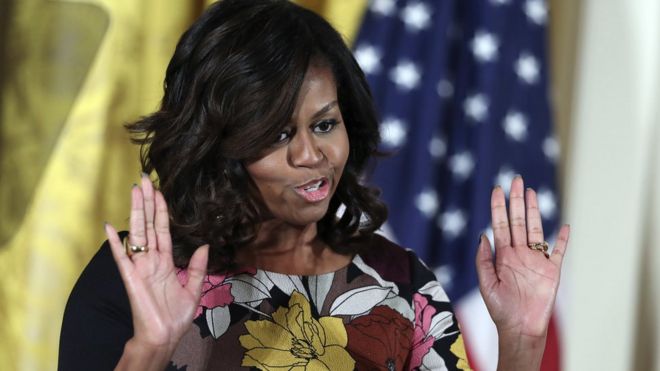 'AN APE IN HEELS' : W.V Officials Come Under Fire For RACIST Michelle Obama FACEBOOK POST!
A racist Facebook post about Michelle Obama has caused a major controversy involving a town mayor in the US state of West Virginia.
Pamela Ramsey Taylor, who runs a local non-profit group in Clay County, referred to the first lady as an "ape".
"It will be refreshing to have a classy, beautiful, dignified first lady in the White House. I'm tired of seeing a Ape in heels," she said.
Local mayor Beverly Whaling responded with "just made my day Pam".
Ms Whaling is mayor of the town of Clay, which has a population of just 491.
It has no African American residents, according to the 2010 census. In Clay County as a whole, more than 98% of its 9,000 residents are white.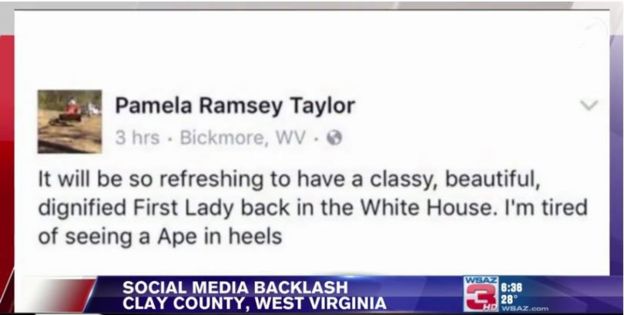 Despite the small population in the region, the controversial Facebook post spread across United States and international media outlets.
A petition calling for both women to be sacked has collected more than 85,000 signatures.
The Washington Post and New York Daily News reported that Ms Taylor was removed from her position on Monday.
She told local news outlet WSAZ, which first carried the story, that she acknowledged her Facebook post could be "interpreted as racist, but in no way was intended to be", and that she was expressing a personal opinion on attractiveness, not the colour of a person's skin.
She told the news station she was considering legal action for slander against unnamed individuals.
The Clay County Development group, of which Ms Taylor is the director, is partly funded through state and federal grants, and the group provides services to elderly and low-income residents.
In a statement given to the Washington Post, Mayor Whaling said: "My comment was not intended to be racist at all" and apologised for the comment "getting out of hand."
"I was referring to my day being made for change in the White House! I am truly sorry for any hard feeling this may have caused! Those who know me know that I'm not of any way racist!" she said.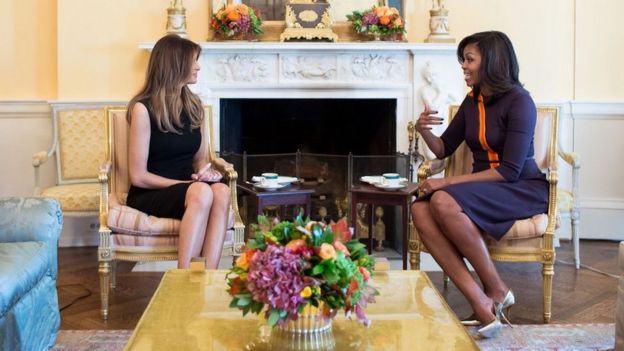 Owens Brown, director of the National Association for the Advancement of Colored People West Virginia chapter, said it was "unfortunate that people still have these racist undertones".
"Unfortunately, this is a reality that we are dealing with in America today. There's no place for these types of attitudes in our state."
West Virginia Democratic Party Chairwoman Belinda Biafore issued an apology to Michelle Obama "on behalf of my fellow Mountaineers", referring to a nickname for inhabitants of the state.
"West Virginia truly is better than this. These radical, hateful, and racist ideals are exactly what we at the West Virginia Democratic Party will continue to fight against," she said in a statement.
The state voted for the Republican candidate, Donald Trump, in the presidential election, with 68.7% of the vote.
https://boardgamegeek.com/thread/1672673/michelle-obama-ape-heels-post-causes-outrage
We encourage you to Share our Reports, Analyses, Breaking News and Videos. Simply Click your Favorite Social Media Button and Share.