also see here for me….I belong to an old Norwegian aristocratic ROYAL family including Count Tolstoy (Leon Tolstoy, the famous Anarchist theorician inspired the Russian Revolution but at the same time was the scion of the Chernigov Princes – 11th cent. – by far the oldest Russian royalty), Henrik Ibsen, Papal and Royal Chamberlains, many Members of the Royal Household, (Mistresses of the Robe) barons and counts, ambassadors. All those who fail to heed heaven's voice (the lottery draw of 666 below) will be thrown into hell in the end times says the Bible. Well, heaven has spoken. On the day after Obama's election the lottery in his homestate drew 666. The 666 lottery-draw also reveals that Obama's Mark of 666 means his money. Check the lottery numbers in Obama's homestate here : the Pick 3 of Nov 5, 2008 was 666, less than 24 hours after Obama's election!! Because I'm alone in revealing the lottery draw of 666, the Mark of the Beast that everybody knows is the Antichrist, that makes me the Messiah and Jesus' Second Coming. Tibetan Tantric Buddhism is the highest form of culture in the world and I follow it's Kalachakra creed. Buddhism and Hinduism never carried out war like Christianity and Islam (That's the worst thing existing in the world.) In 1999, I was recognized as the reincarnation of a disciple of the highest Sakyapa lama of Tibet. I'm working on revealing myself and my message to the world fast now so the Apocalypse blows. My message of truth and that shows the way, must be revealed not only here at BIN (the only place in the world where speech is free), but worldwide! The lying Antichrist Camp is infesting my articles with trolling from such criminal orgs as "Organizing for Action" so don't follow anyone opposing me here such as the homo trolls supporting the Antichrist Obama's murderous homo-agenda!
Mr Trump Raise The Birth Certificate Again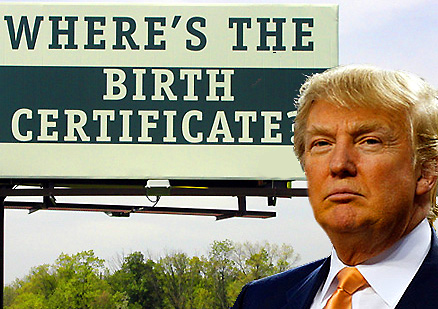 Obama Ask A Kid For His Birth Certificate
Joke Double Standard
Obama Mocks Birth Certificate Claim
Christie After Obama Released Birth Certificate Trump Said Thats the End of the Issue
Donald Trump Deals With Birther Madness Barack Obama Was Born in The US PERIOD
(it's FAR FROM OVER YOU CLOWNS!!!!!!!!!!!!!!!!)
Mike Zullo on The 100% Forged Obama Birth Certificate
Alex Jones and his team of Infowars reporters are breaking down the electronic Berlin Wall of media control by reaching millions of people around the world – with more waking up every day. Circumventing the dying dinosaur media systems of information suppression, Infowars and the Alex Jones Channel are a beacon of truth in a maelstrom of lies and deception. You have found the tip of the spear in alternative media – Infowars is on the front lines in the battle to reclaim our rights, dignity and our destiny by exposing the control freaks who seek to turn the globe into a prison planet.