IRREFUTABLE PROOF
that Michelle Obama
IS A MAN 24/7
IRREFUTABLE PROOF that Michelle Obama IS A MAN 24/7 from CastleJenniferBassett on Vimeo.
"The First Lady is a Man" (MUSIC VIDEO)
But the story is not over yet! Watch Part 2, and learn about Michelle Obama's direct connection to the MAN who likes to call himself Serena Williams.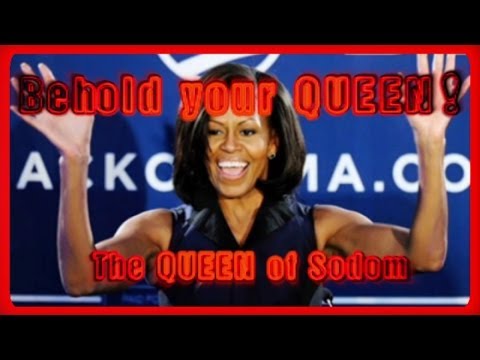 Watch this video with the transcript at the following link,
http://testimonyofthetwowitnesses.com/ANTIPOPE-Francis.php#Michelle
In this video, you will see documented proof, that "Michelle" has the hands of a man, the shoulders of a man, the overall body proportions of a man, male genitalia, and, as an added bonus – an Adam's Apple! For years, the White House staff, have all known, that Michelle Obama is in fact a man. And yet, along with countless others, they have knowingly chosen, to deceive the Nations. Do not let their deception continue for one more minute! Watch the video. See the proofs. Deal with it. Go through the 5 stages of grief (denial, anger, bargaining, grief, acceptance), and be the first to tell your friends – because truly, they will never forget who was the first to reach out to them, with that life-changing story. Finding out the truth about Michelle, is like watching the Twin Towers (Barack and Michelle) fall. Everyone remembers where they were, when they heard the news.
While Barack, has repeatedly chosen to invalidate his Presidency, by breaking his oath of office countless times, as he systematically destroys the American Constitution, "Michelle" (at least that is the name he now goes by), has been working with the Mainstream Media, to deceive the entire world, into believing that somehow a man, can be "the First Lady".
The extent of the White House deception, is truly "an unspeakable horror" – one that has gone on for years, before all of Heaven. It is now time for the entire world to know, that The United States of America, as a nation, has fallen! It has fallen on so many different levels, that truly it will be forever compared, to the past, and present, fall of Rome.
In as much as Barack Obama is a World leader (a fact that is well known), along with his Queen, he has now, truly become "the King of Sodom". Through the Mainstream Media, and through tolerance, this entire Planet has knowingly embraced the sin of Sodom and Gomorrah, and has in fact become even worse, than those historical cities, in the eyes of the One and only Creator.
And so, what is to become of "the great city" – the City of Sodom? Perhaps this next video, will give you a clue. Show no false compassion for one of the greatest deceivers in recorded history – Barack Hussein Obama (a.k.a. Barry Soetoro); for to pity him, as 'the light of Truth' illuminates so many of his deceptions, is, to pity 'the enemy incarnate', for his evils being brought to the light.
So who are The Two Witnesses, spoken of in the Book of Revelation, in Chapter 11? Their true identities are revealed, at the very beginning of this next video.
Truly, Barack Hussein Obama is the fulfillment of the Antichrist. Have there been other antichrists throughout the course of history? Yes, of course: Nero, Hitler, Pol Pot – just to name a few. But one antichrist in particular, was specifically referred to in the Bible as the antichrist, and his name is Barack Obama. It is the name that was foretold, by the biblical phrase, "abomination of desolation". What America has now become, is in fact, "a desolate, wasteland" – an Obama Nation, of Desolation. A drought of historical proportions, is now fully underway in the United States. The drought is simply, one more sign, of the Obama Nation of Desolation, that is now fully set up both inside, and outside, of all of the churches, both in, and outside of, the United States of America.
And so how, is this above video, "IRREFUTABLE PROOF that Michelle Obama IS A MAN", about to change the course of World History? – you might be asking. It is really quite simple: All of Heaven is watching and waiting to see what the Citizens of the United States of America will do, now that they have been formally introduced to their new "Queen". Will they choose to tolerate 'the Queen of Sodom' ruling over them, just as the Sodomites and Gomorrites did? If so, the course of world events will change for the worse. Or, will they prefer to fraternally correct their Commander and Chief, by reminding him that he has broken his Oath of Office so many times, that he is now by that very fact, impeached! – and remind "Michelle", that he is in no way qualified to be 'the First Lady of the United States', for obvious reasons. This second choice, will change the course of world events, and the course of human history, for the better. We will see how this turning point in American History plays out. But as these events unfold, one thing is for certain: the United States of America, is now the textbook definition of An Absolute Monarchy! Congratulations America on your new form of Government!
Here are some interesting comments, people from around the world have posted, after viewing the video, "IRREFUTABLE PROOF that Michelle Obama IS A MAN 24/7":
No amount of spin-doctoring, name-calling, and obfuscation can deny the fact Michelle Obama was born a man. For all of those who felt something was never quite right with Michelle, here is concrete proof that your eyes, in fact, do not deceive you (the media does)
The video is beyond awesome!… [posted by Mark Dice on Twitter]
When I first saw "Michelle" I said she looked like Mike Tyson in drag!
That is one hell of a video, and answers a lot of questions…
Amerikka's First Tranny.
You've convinced me! This is huge!
If this is true (and I believe it is…) then how deep the rabbit hole goes… So, a guy born in Kenya, with a manWife and two borrowed kids was elected (twice!) by the USA population as their "commander in chief"..?
5 stars!!
I was convinced before this, but this is the topper!
IRREFUTABLE PROOF that Michelle Obama IS A MAN hahaha! 24 Minute video breaks it down!
I want to see Michael's birth certificate and baby pictures. I think there are two dudes living at 1600 Pennsylvania Avenue.
America is screwed either way.
Whaaat! Americas first woman is actually a drag queen?
I thought that was going to be one of those really dumb badly made videos.. But I was wrong. Wow. so she is a man.
oh and …ewwwwwwwwwwwwwwww
Wow! the brow, the Adam's apple, the shoulders, the proportions, the fingers, the wardrobe malfunctions, the wardrobe illusions, the arm muscles, I'll be damned, it all adds up, the proportion thing, was something I had never heard of before… yeah I did want the lady to speak a little faster but all in all, the video was fairly convincing, imo.
Hey, don't talk about our first woMAN like that!
Son of a b@#&%… She's a he.
I wish I had biceps like her. [posted by someone with a male avatar]
I bet Michelle man can beat Barak up!
So… ehmm… How Long is your Ring Finger?
Someone needs to tell Barack
Ø is gay.
Still trying to locate a photo of a pregnant Michelle.
Show me the Adam's apple and I am sold! [posted with a snapshot of Michelle's adams' apple from 15:15 in the video]
IRREFUTABLE PROOF that Michelle Obama IS A MAN IRREFUTABLE I tell ya'.
Knock Knock. Who's there? The First. The First Who? The First Ladyboy!
One thing is for sure. It is Michelle who wears the pants in the family.
I guess we need a looksie at Michelle, or should I say Mitchel's birth certificate.
If you would like to learn more shocking and surprising truths, go to http://www.testimonyofthetwowitnesses.com/
Have you experienced "The New Pentecost" of these End Times? You can do so quickly, by using the free Blessed Holy Water from the Two Witnesses.
Use the Blessed Holy Water that you can obtain in your home in minutes – for free, and with no mailing, by following the instructions on their website, at the following link:
http://testimonyofthetwowitnesses.com/HOLY-WATER-AND-THE-SACRAMENTS.php