also see here for me….I belong to an old Norwegian aristocratic ROYAL family including Count Tolstoy (Leon Tolstoy, the famous Anarchist theorician inspired the Russian Revolution but at the same time was the scion of the Chernigov Princes – 11th cent. – by far the oldest Russian royalty), Henrik Ibsen, Papal and Royal Chamberlains, many Members of the Royal Household, (Mistresses of the Robe) barons and counts, ambassadors. All those who fail to heed heaven's voice (the lottery draw of 666 below) will be thrown into hell in the end times says the Bible. Well, heaven has spoken. On the day after Obama's election the lottery in his homestate drew 666. The 666 lottery-draw also reveals that Obama's Mark of 666 means his money. Check the lottery numbers in Obama's homestate here : the Pick 3 of Nov 5, 2008 was 666, less than 24 hours after Obama's election!! Because I'm alone in revealing the lottery draw of 666, the Mark of the Beast that everybody knows is the Antichrist, that makes me the Messiah and Jesus' Second Coming. Tibetan Tantric Buddhism is the highest form of culture in the world and I follow it's Kalachakra creed. Buddhism and Hinduism never carried out war like Christianity and Islam (That's the worst thing existing in the world.) I'm working on revealing myself and my message to the world fast now so the Apocalypse blows. My message of truth and that shows the way, must be revealed not only here at BIN (the only place in the world where speech is free), but worldwide
Brave patriots are standing up to Fascist Left. Socialists are Fascists like National Socialist Hitler.
'Bill Clinton A Rapist' Interrupts President Obama Rally for Hillary in Greensboro NC 10-11-2016
Protesters with "Bill Clinton is a Rapist" signs, shirts disrupt Obama event for Hillary Clinton 10/11/2016
Obama's speech interrupted by protesters shouting "Bill Clinton's a rapist" with same on t-shirts. Crowd chants "Hillary" in response
This is a really good one. A girl and a guy strip their outer shirts and run up to a center stage below the podium with hand written "Bill Clinton is a Rapist" T shirts.
MSM refused to pan the crowd, but it sounds like they had some back up support in the bleachers.
"Better put some ice on that swollen lip"
ALL THE EX-PRESIDENT'S SCANDALS
Nurse backs up Clinton rape charge
Attended Broaddrick's wounds after alleged assault in Arkansas
June 26, 2003
[a few excerpts from article...]
Kelsey recalls Broaddrick saying the meeting with Clinton began with small talk, and "she was a little surprised he was by himself."
"She said he was showing her locations outside the window there in Little Rock, and then, all of a sudden, he just kind of grabbed her and started kissing her," remembers Kelsey.
"He overtook her and pushed her to the bed, and from that point on it was just a rape."
Kelsey says Broaddrick explained how her lip became swollen: "He bit her lip to try to keep her from struggling with him.
http://www.wnd.com/?pageId=19483
From Juanita Broaddrick's Twitter page: Sept 2015 – Jan 2016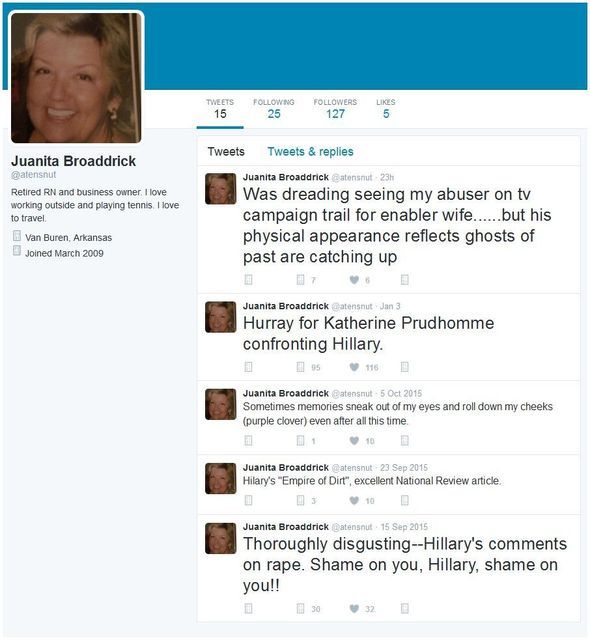 https://twitter.com/atensnut
______________________________________
From 1999…
All [some of] the President's victims:
Bill Clinton's long history of sexual violence against women
Although the White House has successfully intimidated NBC News into deep sixing an explosive interview with an Arkansas woman who says Bill Clinton raped her 20 years ago, Capitol Hill Blue has confirmed that the charge is but one of many allegations of sexual assault by the President.
A five month investigation into the President's questionable sexual history reveal incidents that go back as far as Clinton's college days, with more than a dozen women claiming his sexual appetites leave little room for the word "no."
Juanita Broaddrick, an Arkansas woman who worked on Bill Clinton's campaign when he was attorney general, told NBC's Lisa Meyers two weeks ago she was raped by Clinton. NBC, under intense pressure by the White House, shelved the interview. The White House also threatened Fox News Tuesday after it reported the story.
But Broaddrick's story is only one account of many sexual assaults by Clinton. Among the other incidents:
A 1969 charge by a 19-year-old English woman who said Clinton assaulted her after she met him at a pub near the Oxford University campus where the future President was a student. A retired State Department employee, who asked not to be identified, confirmed this week that he spoke with the family of the girl and filed a report with his superiors. Clinton admitted having sex with the girl, but claimed it was consensual. The victim's family declined to pursue the case;

In 1972, a 22-year-old woman told campus police at Yale University that she was sexually assaulted by Clinton, who was a law student at the college. No charges were filed;

In 1974, a female student at the University of Arkansas complained that then-law professor Bill Clinton tried to prevent her from leaving his office during a conference. She said he groped her and forced his hand inside her blouse. Clinton claimed the student "came on" to him and she left the school shortly after the incident.

[Juanita] Broaddrick, a volunteer in Clinton's attorney general campaign, said he raped her in 1978;

From 1978-1980, during Clinton's first term as governor of Arkansas, state troopers assigned to protect the governor reported seven complaints from women who said Clinton forced, or attempted to force, himself on them sexually.

Elizabeth Ward, the Miss Arkansas who won the Miss America crown in 1982, told friends she was forced by Clinton to have sex with him shortly after she won her state crown. Last year, Ward, who is now married with the last name of Gracen, told an interviewer she did have sex with Clinton but said it was consensual. She later recanted that interview and said had been threatened by Clinton supporters into claiming the sex was consensual.

Paula Corbin [Jones], an Arkansas state worker, filed a sexual harassment case against Clinton after an encounter in a Little Rock hotel room where the then-governor exposed himself and demanded oral sex. Clinton settled the case with Jones recently with a cash payment.

A former Washington, DC, political fundraiser says Presidential candidate-to-be Clinton invited her to his hotel room during a political trip to the nation's capital in 1991, pinned her against the wall and stuck his hand up her dress. She says she screamed loud enough for the Arkansas State Trooper stationed outside the hotel suite to bang on the door and ask if everything was all right, at which point Clinton released her and she fled the room. When she reported the incident to her boss, he advised her to keep her mouth shut if she wanted to keep working. The woman has since married and left Washington.

Kathleen Willey, a White House volunteer, reported that Clinton grabbed her, fondled her breast and pressed her hand against his genitals during an Oval Office meeting in November, 1993. Willey, who told her story in a 60 Minutes interview, became a target of a White House-directed smear campaign after she went public.
In an interview with Capitol Hill Blue this week, the retired State Department employee said he believed the story of the young English woman who said Clinton raped her in 1969.
"There was no doubt in my mind that this young woman had suffered severe emotional trauma," he said. "But we were under tremendous pressure to avoid the embarrassment of having a Rhodes Scholar charged with rape. I filed a report with my superiors and that was the last I heard of it."
Capitol Hill Blue also spoke with the former Washington fundraiser who confirmed the incident, but said she would not go public because anyone who does so is destroyed by the Clinton White House.
"My husband and children deserve better than that," she said.
The other encounters were confirmed with more than 30 interviews with retired Arkansas state employees, former state troopers and former Yale and University of Arkansas students. Like others, they refused to go public because of fears of retaliation from the Clinton White House.
Likewise, the mainstream media has shied away from the Broaddrick story. Only The Drudge Report and other Internet news sites have actively pursued it.
The White House did not return calls for comment Tuesday night.
https://web.archive.org/web/19991007004657/http://www.capitolhillblue.com/Feb1999/020399/clintonrape020399.htm
Leftists getting a taste of their own guerrilla tactics.
Hillary, defender of rapists everywhere.
We encourage you to Share our Reports, Analyses, Breaking News and Videos. Simply Click your Favorite Social Media Button and Share.