Via Mike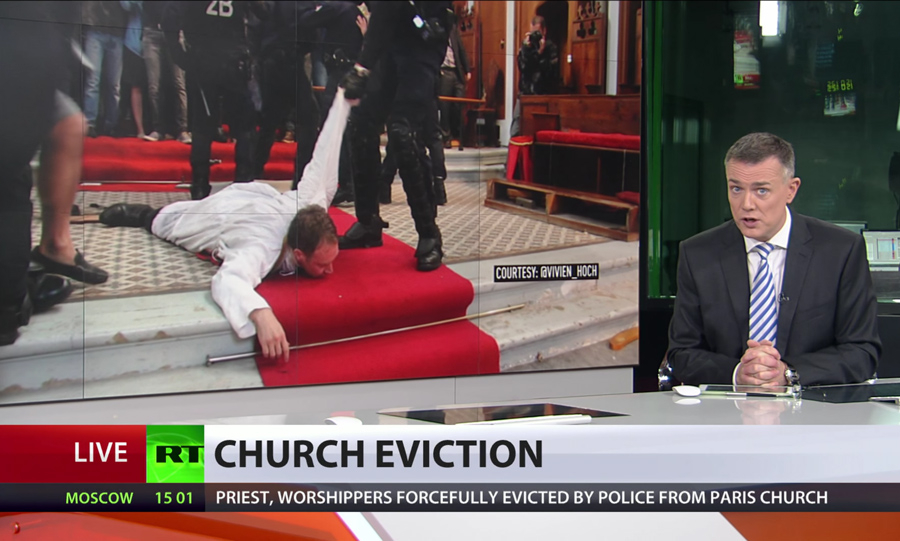 On August 3, French riot police dragged a priest and his congregation from the church of St Rita in Paris, prior to its scheduled demolition. Front National leader Marine Le Pen said in fury: "And what if they built parking lots in the place of Salafist mosques, and not of our churches?"
France is in turmoil. "Migrants" arriving from Africa and the Middle East sow disorder and insecurity in many cities. The huge slum commonly known as the "jungle of Calais" has just been dismantled, but other slums are being created each day. In eastern Paris, streets have been covered with corrugated sheets, oilcloth and disjointed boards. Violence is commonplace. France's 572 "no-go zones," officially defined as "sensitive urban areas", continue to grow, and police officers who approach them often suffer the consequences. Recently, a police car drove into an ambush and was torched while the police were prevented from getting out. If attacked, police officers are told by their superiors to flee rather than retaliate. Many police officers, angry at having to behave like cowards, have organized demonstrations. No terrorist attacks have taken place since the slaughter of a priest in Saint-Etienne-du-Rouvray on July 26, 2016, but intelligence services see that jihadists have returned from the Middle East and are ready to act, and that riots may break out anywhere, any time, on any pretext.
Source:
http://freenorthcarolina.blogspot.com/2016/11/france-on-verge-of-total-collapse.html
We encourage you to Share our Reports, Analyses, Breaking News and Videos. Simply Click your Favorite Social Media Button and Share.