A research project by The Brookings Institution illustrates the poor performance of the Wichita-area economy.
Metro Monitor from The Brookings Institution rates metropolitan areas on several indicators.
For this year's report, the news is not good. For the period 2010 to 2015, Wichita ranks 88th in growth, 69th in prosperity, and 44th in inclusion. (The 100 largest metro areas were ranked.)
Looking at just the most recent year, 2014 to 2015, Wichita ranks 73rd in growth, 42nd in prosperity, and 9th in inclusion.
Wichita employment since 1990. Click for larger.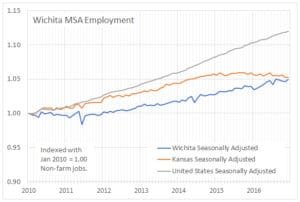 Wichita employment since 2010. Click for larger.
Changes in Wichita employment. Click for larger.So perhaps there is hope for progress, in that the rankings for the most recent year are better than the rankings for the past five years.
Brookings computed a measure called "Metro area competitive shift." It's described as "The difference between the actual job growth and the expected job growth. It indicates whether the metro area overperformed or underperformed given its industrial structure."
For the period 2010 to 2015, Wichita scored -4.2 percent. For 2014 to 2015, the measure is -0.5 percent. Again, perhaps a good sign.
Looking at more recent data gathered from the Bureau of Labor Statistics through December 2016, we see that while total nonfarm employment rises, manufacturing employment has remained steady since 2010. But, after a sharp drop during the last recession, aerospace manufacturing employment has been on a downward trend since 2010. This is relevant because Wichita's economic development practice provides much subsidy to companies in the aircraft manufacturing industry. These subsidies increase the cost of government for other business firms, including — especially — the young firms that are the fuel for a dynamic economy.
When comparing total nonfarm employment in Wichita to that of the nation, we see that while Wichita is growing, it is growing at a slower rate than the nation.
Source:
https://wichitaliberty.org/wichita-government/wichita-economy-job-growth/
We encourage you to Share our Reports, Analyses, Breaking News and Videos. Simply Click your Favorite Social Media Button and Share.