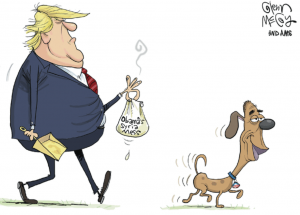 By Greg Hunter's USAWatchdog.com
Not many people anywhere actually believe the chemical weapon attack was done by the Assad regime in Syria, but some do. The timing is extremely suspect, when on one week, you hear President Trump say he wants to leave Syria, and the next week, there is a gas attack. Why would Assad want the US to stay? The UK has given the green light for an attack, while Russia is warning of a counter attack if Syrian or Russian troops are fired upon. At the moment, it looks like an attack has been stalled. Hopefully everyone will figure out a way to save face without starting a wider conflict.
Speaker of the House Paul Ryan has announced he will not run for reelection in November. Now, many in the GOP want him to step down now and not wait until his term ends early next year. Ryan is only 48 years old and is number 3 in line to succeed the President if both the President and Vice President cannot fulfill their terms. Ryan says he's not running to spend more time with the family.
The economy is sending out mixed signals. The stock market is at near all-time highs, the unemployment rate is near record lows and shipping is tight because of the good economy. On the other hand, bankruptcies are up and earnings for workers are down. Are things good or bad? It looks like the answer is both, depending on what you do and where you live.
Join Greg Hunter as he talks about these stories and more in the Weekly News Wrap Up.
(To Donate to USAWatchdpog.com Click Here)

After the interview:
Former White House Budget Director and best-selling author David Stockman will be the guest for the Early Sunday Release.
Related Posts:
https://usawatchdog.com/usuk-syrian-airstrike-stalled-ryan-retires-economic-update/
We encourage you to Share our Reports, Analyses, Breaking News and Videos. Simply Click your Favorite Social Media Button and Share.