by Scott Creighton
Kadzik and Tony Podesta, John Podesta's brother
Yes the fix is in once again and this yet another 39 minute meeting on the tarmac.
After it recently came out that she did her best to discourage James Comey from sending a letter to congress announcing the FBI is taking another look at another batch of Clinton emails, Attorney General Loretta Lynch is earning her keep politically speaking by assigning Assistant Attorney General Peter Kadzik to head-up the "investigation" into those emails.
Kadzik sent a letter to congress just after the story broke this weekend:
"We assure you that the Department will continue to work closely with the FBI and together, dedicate all necessary resource and take appropriate steps as expeditiously as possible," Peter Kadzik
Kadzik, as it turns out, is a long time friend of Clinton campaign head John Podesta. They've had dinner several times since Nov. of last year, once out in public and once in Podesta's home. Here's a screen shot of a Wikileaks email from this year as Podesta confirmed dinner plans at his home.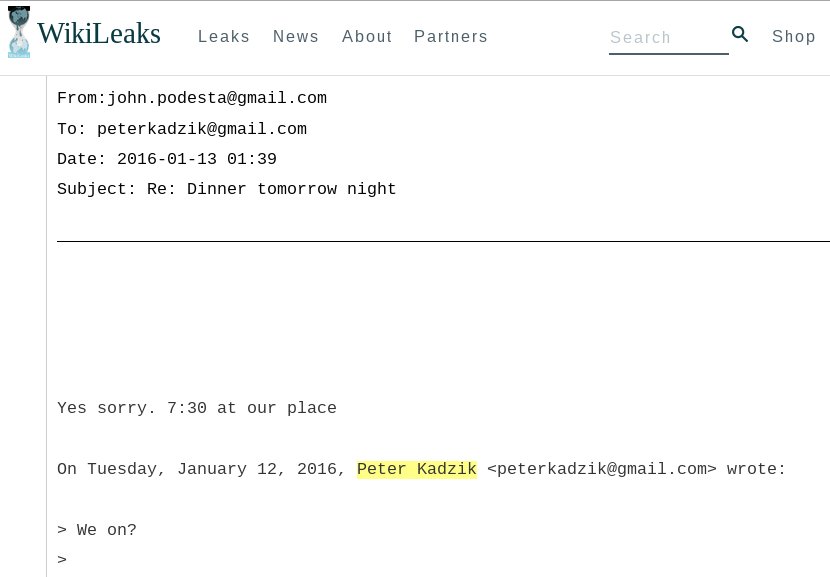 Here's a little more info from Zero Hedge:
"The day after Hillary Clinton testified in front of the House Select Committee on Benghazi last October, John Podesta, Hillary's campaign chairman met for dinner with a small group of well-connected friends, including Peter Kadzik, who is currently a top official at the US Justice Department serving as Assistant Attorney General for Legislative Affairs…

Podesta and Kadzik met several months later for dinner at Podesta's home, another email shows. Another email sent on May 5, 2015, Kadzik's son asked Podesta for a job on the Clinton campaign." Zero Hedge
Kadzik was Podesta's lawyer during the Monica Lewinski investigation and he later suggested him as a potential head of Veteran's Affairs. Podesta said of Kadzik "he kept me out of jail" and that he "wants to help"
Peter Kadzik was mentioned 20 times in a search of the Podesta email files at Wikileaks and he previously testified before congress about Hillary's use of an illegal email server, concluding that she was totally innocent of all charges.
Kadzik's wife, Amy Weiss, is a former "White House Deputy Assistant to the President/Deputy Press Secretary to President Bill Clinton" and "Clinton/Gore Campaign Press Secretary in Oregon (1992)"
So yeah, AG Lynch has fixed the problem once again by handing over control of the Justice Department's "investigation" into this new batch of emails to a good friend of Hillary's campaign chief.
Is is any wonder that Putin describes the United States as a "banana republic" these days? Of course, I made that observation years ago but no one listens to me. But yeah… it's another meeting on the tarmac. This is the way shit gets done in D.C. these days especially if your last name just happens to be Clinton.
—
Please help keep AE up and running if you can. My situation has changed a bit. I now have legal representation and I plan to fight this wrongful SSD decision tooth and nail.

But I am still receiving no support from disability. Anything you can do to help with my desperate situation would be appreciated. Hopefully next month I will get a favorable decision from the review board and it doesn't go back to this reactionary activist Administrative Law Judge who rendered this decision in the first place.
Thank you all so much
(For my mailing address, please email me at RSCdesigns@tampabay.rr.com)
Source:
https://willyloman.wordpress.com/2016/11/01/doj-assigns-peter-kadzik-to-new-clinton-email-investigation-kadzik-is-a-close-friend-of-john-podesta-and-married-to-woman-who-worked-for-bill-clinton/
We encourage you to Share our Reports, Analyses, Breaking News and Videos. Simply Click your Favorite Social Media Button and Share.