Judge denies request for hand recount
Green Party presidential candidate Jill Stein requested the recount last week. She alleged — without evidence — that the state's voting equipment may have been hacked.
LIVE: Wisconsin Judge Hears Arguments Over Possible Recount NOVEMBER 29, 2016
Wisconsin Judge Hears Arguments Over Possible Recount. The Wisconsin Department of Justice is trying to convince a judge not to order a hand recount of presidential ballots.
Green Party presidential candidate Jill Stein has requested a recount, saying she's worried results were hacked. State election officials plan to start the recount on Thursday but have rejected Stein's supplemental request that the recount be conducted exclusively by hand.
Stein has filed a lawsuit asking a Madison judge to order a hand recount. DOJ attorneys filed briefs Tuesday arguing that Stein hasn't shown how a hand recount would change the election's results and has offered no evidence of any problems with automatic tabulating equipment. They go on to argue that she's offered only speculation about security risks inherent in all electronic voting systems.
A hearing in the case has been set for Tuesday afternoon.
MADISON, Wis. (AP) — Wisconsin election officials are now saying recounting the state's presidential votes could cost nearly $4 million.
Green Party presidential candidate Jill Stein has requested the recount. Under state law she's responsible for covering the cost. The state Elections Commission initially told her campaign that the process could cost about $3.5 million. She must pay the state that amount by 4:30 p.m. to trigger the recount.
But Commission officials now say they made a computation error when they compiled county clerks' individual cost estimates. They now believe the recount will cost $3.9 million.
Commission spokesman Reid Magney says the panel still expects only $3.5 million from Stein by the end of business on Tuesday but she'll have to pay the actual cost, whatever that is.
A Stein campaign spokeswoman didn't immediately respond to an email.
MADISON, Wis. — Independent presidential candidate Roque De La Fuente has withdrawn his request for a recount in Wisconsin.
De La Fuente and Green Party presidential candidate Jill Stein both asked for recounts last week. De La Fuente said then he wanted to expose corruption in the Democratic and Republican parties and illustrate the need for election reform. Stein said she wants to ensure Wisconsin's results weren't hacked.
State election officials have estimated the recount will cost about $3.5 million. They won't order the recount until De La Fuente or Stein or both come up with the money by 4:30 p.m.
De La Fuente said in the release the recount is cost prohibitive.
Stein has raised $6.4 million online since last week to fund recounts in Wisconsin, Michigan and Pennsylvania. She has pledged to pay the cost of the Wisconsin recount by the deadline.
MADISON, Wis. – Hillary Clinton is looking to join Green Party presidential candidate Jill Stein's lawsuit seeking a hand recount in Wisconsin.
Stein and Independent presidential candidate Roque De La Fuente have asked for a recount. Stein has asked the recount be completed by hand in every Wisconsin county to verify electronic voting machines weren't hacked. State elections officials refused to order a hand recount. Stein filed a lawsuit Monday asking a Dane County judge to order a hand recount.
Clinton's attorneys filed a motion Tuesday seeking to join the lawsuit, arguing the recount could affect her. They also filed a memo supporting the push for a hand recount, saying that method is the most transparent for the public and will ensure the most accurate results.
Donald Trump beat Hillary Clinton by about 22,000 votes in Wisconsin. The recount will start Thursday if Stein or De La Fuente or both meet a Tuesday deadline to pay the $3.5 million cost.
MADISON, Wis. – A Dane County judge has knocked down Jill Stein's request to conduct Wisconsin's recount exclusively by hand to rule out any electronic tampering with the results.
On Monday, in setting the timetable and requirements for the recount, the Wisconsin Elections Commission (WEC) denied Stein's request for a hand count, saying state law gives clerks the power to decide how to recount the ballots — especially in light of the number of votes that need to be counted before the federal deadline of December 13. Stein's campaign responded with a civil lawsuit to seek a court order.
In her decision Tuesday night, Judge Valerie Bailey-Rihn said Stein's experts couldn't present "clear and convincing evidence" that Wisconsin voting equipment was compromised, only that it was possible.
"A hand recount is the gold standard, it's the best we can do. I don't think there's any dispute to that," the judge said, and she noted there's no difference in cost to taxpayers since the campaign pays for it. "However, it's not the court's decision to decide the best way… I have to do what the law tells me to do."
The ruling came four hours after the hearing began, and after the judge took a brief recess around 8 p.m.
Stein says there were "statistical anomalies" in results where voters used electronic voting machines. Attorneys for her campaign called several witnesses to support their claim that hackers might have launched a cyber attack or planted malicious software that changed the outcome of the race.
A University of Michigan professor who's an expert on cyber security testified that it's possible and that the Wisconsin Elections Commission doesn't have enough protocols in place to prevent hacking.
Professor Alex Halderman testified, "I believe that a hand recount, or other methods of determining to a high statistical confidence that the physical record matches the digital record, are necessary as a routine matter of election security."
Under examination, Election Commission Administrator Michael Haas was asked if he was aware of any problems with the vote tabulation or counting, any malware in any machines, or any cyber attacks against the machines. He answered "no" to all three.
The elections commission has also argued a hand recount would take a long time and a lot of people to do it.
"I will allow the 19 counties to do the recount the way they intended. I think everyone strongly encourages them to do the recount by hand, but it is their decision," Bailey-Rihn said.
The Stein campaign will decide Wednesday whether to appeal the ruling.
Wisconsin Attorney General Brad Schimel issued a brief statement Tuesday night:
I am very pleased with the Judge's decision, particularly because she followed the law enacted by the legislature that sets the parameters for a hand recount. The outstanding effort of the Department of Justice attorneys and staff who worked on this case makes me extremely proud."
Stein's Green Party wired the state nearly $3.5 million Tuesday afternoon before the 4:30 p.m. deadline to begin the Wisconsin recount.
Tuesday afternoon the WEC confirmed it made a calculation error when it added up the estimates from county clerks on how much the recount would cost in their county. The elections commission should have quoted $3.9 million — it was off by $400,000.
The WEC says regardless of its mistake, Stein will have to pay whatever the total cost is. For now the campaign was only required to pay the $3.5 million that was quoted.
If the actually cost comes in higher, her campaign will have to pay the difference; if the cost comes in lower, the campaign will be refunded the difference.
Until the counties have actual costs, not estimates, the state will hold all of the money. That's causing some concern for Fond du Lac County Clerk Lisa Freiberg, who says the county will likely spend $30,000 on the recount.
While state statute says the county will be reimbursed, there's no timeline for the county to get its money.
"My election canvassers and board of canvass will expect payment, of course, and I'm expecting that money will be spent out before it's coming back in," Freiberg said.
"It's laid out in statutes. I don't know the exact timeline when it will happen, but they'll have to actually submit costs to us and we will pay them as soon as we can," the WEC's Reid Magney said.
That means the money will come out of the county's budget, which is paid for by taxpayers, until the reimbursement is received.
Republican Party of Wisconsin Executive Director Mark Morgan issued a statement Tuesday night on the recount:
This recount is nothing more than one final, desperate attempt by Wisconsin Democrats to change the outcome of the election. There is no justification for a recount and this is precisely the kind of underhanded political tactics that the voters of Wisconsin rejected on November 8th. While Hillary Clinton and her liberal allies are focused on undoing the will of the voters, we remain committed to protecting the integrity of the election process here in Wisconsin."
The Green Party was also raising money for recounts in Michigan and Pennsylvania.
A hearing is scheduled in Pennsylvania on December 5 on Stein's request for a court order to force a recount.
http://www.freerepublic.com/focus/f-news/3499675/posts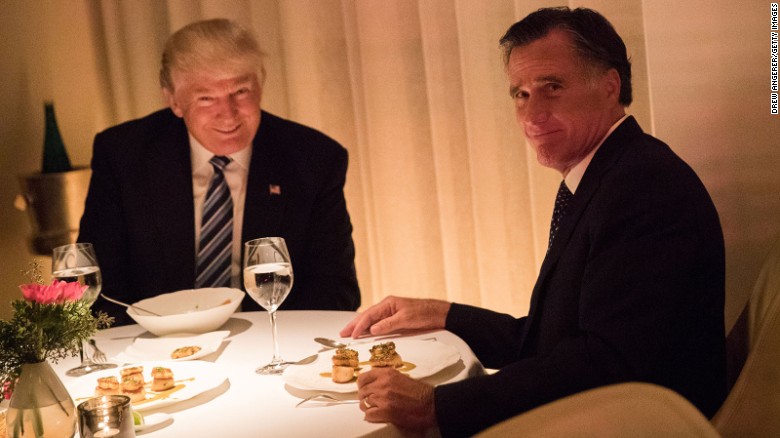 presidential results
trump
306
46.5% votes62,379,366
clinton
232
48.1% votes64,469,963
270 electoral votes to win