by Scott Creighton
As one of the nations that prompted the Truman Doctrine, Turkey is one of the first countries to participate in Operation Gladio and, some say, the only country where it has not been purged.[45]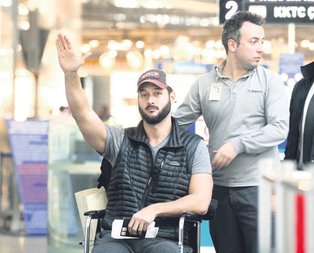 William Jacob Raak being whisked out of Turkey
A reader (David H.) gave me a little head's up on a part of a story involving the New Year's Eve Istanbul shooting at the Reina nightclub. It involved an American "victim" of the shooting, William Jacob Raak, and his less than convincing interviews.
Raak is a military contractor of sorts and his LinkedIn follow page is a veritable "who's who" of big league Pentagon contractors. He is listed as the president of something called TECH Manufacturing Corp which is a sheet metal fabrication shop in Sharon Hill, Penn. On their Manta page Erick Raak is listed as the "owner". Probably William's father. They also have this statement: "Established in 1952 TECH Manufacturing, Corp. is a leading manufacturer of sheet metal and machined items for the aerospace and medical industries. Additionally, TECH Manufacturing, Corp. assists in the manufacturing of rotorcraft, electronic and defense systems, missiles, UAV's and a diverse array of small medical components and devices." The business website, www.techmanufacturingcorp.com, seems to be a dead link. The Manta page is maintained by Jake Raak. Jacob.
Jake Raak says he was shot in the leg by one of the assailants. The bullet supposedly hit his cell phone and then traveled down his hip to his knee. Here he is the night he was shot. This is when he said there were multiple shooters but he only saw the one. In the videos below you can see that interview as well as one he gave as he was being whisked out of the country by some handlers. Both videos are highly suspect in that his behavior is quite odd.
Here is Jake Raak being whisked out of the country with an odd look on his face.
Here he is smiling during his interview as he's being whisked out of the country. He's talking about the 7 friends of his who were also shot, according to Raak. And he can't seem to stop smiling.
Interestingly, during the interview he says he would return to Turkey someday "when it's not so dangerous".
The terror attack at the popular nightclub was clearly an attempt to hurt Turkey's tourism industry. Most of the victims were tourists. So Raak's statement seems custom made to suit that end.
Here is a photo you aren't going to see that much of in regards to this story. It's Jake Raak in the back of that ambulance. He's just said he was shot in the leg and his 7 friends were also shot. He's been addressed by first responders and placed on a gurney for transport to the hospital.
Jake Raak has a wound in his leg, near his femoral artery, from an AK-47 and has already been aided by first responders and loaded into an ambulance for transport… and he is wearing what appears to be a New Year's Eve scrunchie on his leg and NOTHING ELSE has been done to him. A scrunchie. Still on his leg.
They haven't cut his pant's leg to see if he is bleeding internally. They haven't done any sort of field dressing on his wound. Nope. None of that. They simply put him on a gurney, along with his scrunchie, and wheeled him to the ambulance where everyone seem content to work on other things like getting out of there, instead of working on the guy with an AK-47 gunshot wound to his femur.
Why did they grab this guy right off the bat who's only apparent injury is his scrunchie while dozens of others lay bleeding out on the nightclub floor?
Are these the worst first responders in Turkey or is this just his get away ride?
According to reports, the assailants got away by dropping their weapons, changing clothes and blending in with the victims either by fleeing the nightclub on their own… or laying down and pretending to be victims.
I've put together a couple videos done by others addressing the Raak situation. You can find them below the break.
Worse than a Crisis Actor: Jacob Raak | Reina Nightclub Attack – from Lift the Veil

Istanbul Attack, Jake Raak Intelligence Agent, Operation Quiet Storm – from millsmost

Here is the video of the shooter supposedly entering the nightclub that night. This guy looks too short to be Raak but as you all know, witnesses all said there were mulitple shooters that night. Even Raak himself admitted that in his first interview.
Istanbul Gunman Storming The Reina Nightclub
This is an interview in which he says he let the gunman shoot him and he just laid there pretending to be dead. He also says his 7 friends were also shot.
I don't know what too think of the William Jacob Raak story. Military contractors or their offspring often show up in these events. The ones in Paris, France spring to mind for example.
I don't know. Is Raak a victim who just happened to be there and just happens to have the toughest cell phone on the planet and the worst first responders in Turkey? Did he give that Nazi salute at the airport as a kind of homage to Gladios of days gone by? Is he smiling during his interview because he's high on painkillers or because he's flabbergasted by the ridiculousness of him being treated like a hero leaving the scene of his crime?
I don't know. These things are so convoluted these days, it's hard to keep a straight head while researching them.
If you guys find any other good videos or articles on the subject, please leave links below.
Source:
https://willyloman.wordpress.com/2017/01/06/so-who-is-william-jacob-raak/
We encourage you to Share our Reports, Analyses, Breaking News and Videos. Simply Click your Favorite Social Media Button and Share.