by Scott Creighton
The driver of the car that hit all those counter-protesters in Charlottesville yesterday has been identified by authorities as 20-year-old James Alex Fields Jr. of Ohio. And like I said in my video yesterday, he, like MANY of the others who were at the neo-Nazi-themed "protest" on Friday night… is former military.
James Alex Fields Jr. (born April 26, 1997) is a resident of Maumee, Ohio​. He is registered to vote in Lucas County, Ohio​ and put his party affiliation as Republican. In addition, James is registered as the owner of a gray 2010 Dodge Challenger​ that ran into protesters at the Unite the Right​ rally. James was listed as an Active Duty Service Member in the United States Army​…

On the day of the rally, James can be alongside Vanguard America​ wearing their uniform and holding a shield with their logo (Vanguard America denies having any affiliation with him)
Here is DoD manpower status report:
Here is a photo of him taken at the Robert E. Lee statue that day carrying a shield from the Vanguard America destabilization phonies.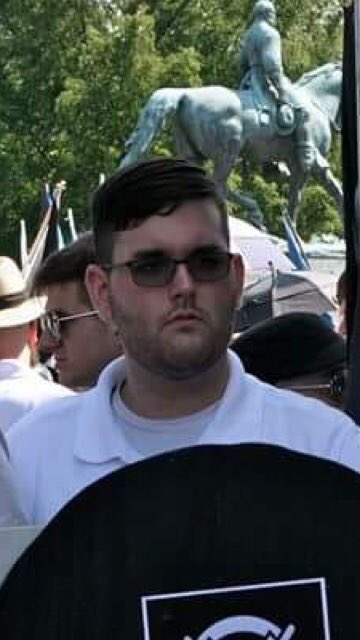 Here is the complete version of that photo.
Reportedly, this is a photo of him behind the wheel of the Dodge Challenger.
And here is his registration:
Apparently I'm REALLY in the wrong line of work, because I can't afford to fix the bullshit '91 Eclipse I got and this kid is running around in a 2010 Challenger with a 6 cylinder engine.
Here's a pic of him being arrested.
Here's on of the car showing it's license plate before the attack.
And here is one after the fact.
This is interesting. Here is James supposedly posing with his Challenger.
So when did he get the different hood and paint job?
All of these photos and more can be found here.
Fields was in the military a total of 4 months. Went through basic training and then left.
There is a long history of various intelligence and law enforcement agencies recruiting directly from the ranks of the military and then sending those young recruits off to join various white supremacist movements and or militias. I'm not saying that is what happened with this guy, but it's been done before. I covered one such operation in a previous American Gladio operation during the Obama days, though I can't remember which one it was.
Vanguard America is definitely a honeypot operation.
Here are a couple of them in the March Against Sharia destabilization rally.
Here's one of their flyers.
Like any self-respecting honeypot psyop, they have their own manifesto.
So that is James Alex Fields Jr. Or what I know of him at this point.
Source:
https://willyloman.wordpress.com/2017/08/13/who-is-james-alex-fields-jr-photos-and-background/
We encourage you to Share our Reports, Analyses, Breaking News and Videos. Simply Click your Favorite Social Media Button and Share.