By Meredith Warfield
When Mark Dunaway and his wife purchased land in eastern Tennessee, they had no idea they would be moving in with an unheard-of species living in their backyard.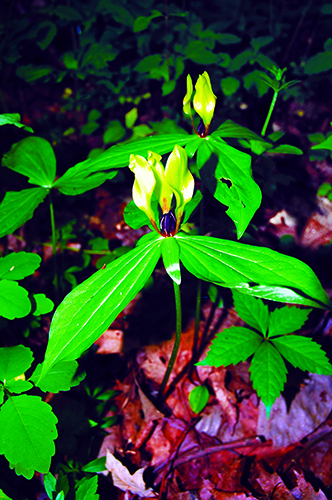 The Trillium tennesseense, a rare wildflower, was first discovered two years ago in the deciduous forests of eastern Tennessee. Photo courtesy Dr. Edward Schilling
The couple came across an unfamiliar, yellow-petaled wildflower while on a plant walk along their property one day, and after searching their field guides and finding no match, they decided to contact experts at University of Tennessee and Tennessee Native Plant Society.
A team of researchers at University of Tennessee examined the flower and found themselves just as stumped as the Dunaways. The experts, comprised of Dr. Edward Schilling, Dr. Susan B. Farmer and graduate student Aaron Floden, then journeyed to the Dunaways' property and investigated the scene of the discovery. After extensive research the team confirmed that the flower was a brand-new species of trillium — to be named Trillium tennesseense — now known to grow in only three locations on the slopes of eastern Tennessee. The research was conducted over the course of roughly a year and a half and was published in June 2013 in the peer-reviewed journal of the Southern Appalachian Botanical Society, The Castanea.
Trilliums ara three-petaled wildflower that grows in a variety of more than 40 different species throughout the U.S. and Canada. Several species can be spotted along the forest floor in Appalachia, blooming from late spring to early summer.
The T. tennesseense, similar in structure to the Wateree trillium growing in South Carolina, seeks shelter on hillsides just above healthy creeks, where there is good drainage and little disturbance from agricultural activity or construction. When in bloom, its yellow petals reach delicately towards the sky above a fan of green leaves sprouting from a very narrow stem. The recently discovered flower is known to grow on the slopes of Bays Mountain in Hamblen and Hawkins counties, although Dr. Schilling and his trillium experts suspect the flower may flourish in more areas that are not yet documented.
The areas surrounding the site of the flower's discovery are inhabited mostly by residential landowners such as the Dunaways. This reduces the threat of commercial and agricultural development that could harm the plant, but also makes for plenty of "No Trespassing" signs in wooded areas where the T. tennesseense could secretly be thriving, its rare beauty unbeknownst to scientists.
"You can't just go waltzing on these landowners' property, " Dr. Schilling says, but the team was able to go bushwhacking into a ravine where they found thousands of individual T. tennesseense flowers along a hillside.
The biggest difference between the T. tennesseense and its fellow genus members is its floral odor. When in full bloom the flower emits a smell similar to old-fashioned shoe polish. Aside from this, the newly discoverd species' relatively shorter ovary and longer stamen also differentiate it from its close trillium friends.
Although the T. tennesseense is considered globally rare, Tennessee has no law to protect the plant species. "This is the only place in the world that it grows, so if it disappears, it will most likely be gone for good," Dr. Schilling notes. As wooded residential areas flourish where the T. tennesseense grows and commercial activity remains at bay, it seems the same fences that have been hiding the flower from human eyes have been sheltering it from extinction.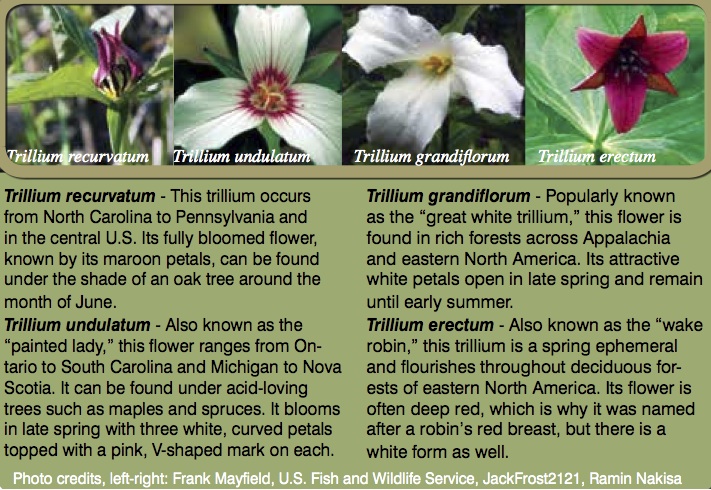 Source:
http://appvoices.org/2014/04/09/new-trillium-species-discovered-in-eastern-tennessee/
We encourage you to Share our Reports, Analyses, Breaking News and Videos. Simply Click your Favorite Social Media Button and Share.