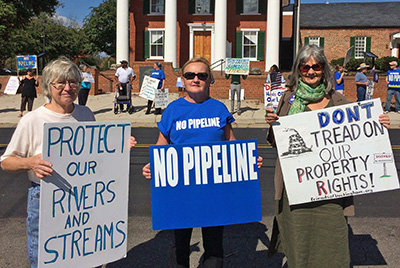 Photo courtesy of Chesapeake Climate Action Network
The Atlantic Coast Pipeline is applying for an exemption for a heavy industrial use compressor station in an A1 Agricultural district of Buckingham County, Va. The proposed site for this 57,865- horsepower fracked gas propulsion station is in the middle of Union Hill in Buckingham, a predominantly historic African American freedmen community.
The Atlantic Coast Pipeline Compressor station will have significant impacts on the Union Hill and Buckingham way of life. Buckingham County is known for its clean air quality and rural culture. If built, the compressor station will lower property values, emit tons of greenhouse gases into an already overburdened atmosphere, and cause a significant increase in noise and air pollution in the county.
At the hearing, Union Hill and Buckingham County residents will speak out against the numerous environmental, economic, and health risks of the Atlantic Coast Pipeline and its associated infrastructure. Wear blue and help us fill the room!
Buckingham Planning Commission Special Use Hearing
When: Monday, September 26 at 7:00 pm
Where: Buckingham County Administration Building
13380 West James Anderson Hwy
Buckingham, VA 23921
Pre-hearing Potluck and Gathering Details
When: Monday, September 26 at 4:30 pm
Where: Buckingham Arts Center (Two Doors West of the Buckingham Administration Building) Disregard Google Map!
Bring a potluck dish to share (vegetarian options appreciated).
Sign making materials will be on hand.
Protecting the Central and Southern Appalachian Mountain Region