Fiber-Optic Broadband in the Silicon Holler
By Donald Welch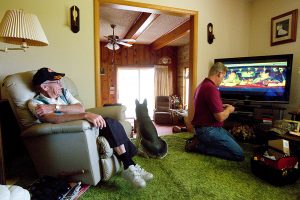 Green Bank, W.Va., resident Alfred Ervine watches a technician hook up his new internet and television service in 2014. Photo by David Kidd / Governing
In Wise, Va., Lincoln Road Coffee, an independent, family-owned company, holds regular media meetings to discuss how their hashtags #LincolnRoadCoffee and #FriendsofLincolnRoad are being used on social media and to set a budget for Facebook advertising.
"We use #Appalachia because we always want to tell people where we're from," says Ryan Jones of Lincoln Road Coffee. This web-focused approach has not only helped the small business grow in their immediate market, but their unique cold brew is now distributed across the country with orders from states like Texas and Washington.
While these marketing strategies may sound more in line with a business in a metropolitan tech hub like New York or San Francisco, Lincoln Road Coffee is in a small town in the mountainous southwestern corner of Virginia.
In West Virginia, only 57 percent of the state has broadband coverage, and of that less than 2 percent has access to fiber-optic broadband. And in nearby Kentucky, broadband coverage extends to 65 percent of the population, with fiber accessible to 10.6 percent of those broadband users. Lawmakers, nonprofits, historians and activists in both states are working to bring fiber-optic broadband into their communities. In doing so, they're hoping to reshape the economic and social geography of Central Appalachia.
Building a Broadband Highway in West Virginia
According to West Virginia State Senator Chris Walters, technology is a crucial part of the 21st century economy.
To this end, Walters sponsored S.B. 315, known as the Middle Mile Bill, which aims to create fiber-optic lines that connect the rural areas of the state. To fund this effort, the bill requires state agencies to seek federal grants and requires the water development authority to pursue performance bonds. Walters doesn't want West Virginians to pay for the construction of the fiber line.
According to Walters, the state's inconsistent internet adversely affects its students, especially young adults who are trying to take advantage of online colleges to finish degrees. Incidents such as an internet connection failing in the middle of a test or important lecture could cause students to fall behind. Irregular access to efficient broadband across the state, Walters says, violates a 1982 court decision mandating that West Virginia provide an equal educational opportunity to all students.
Walters explains that the state can "build a 2500-mile fiber optic interstate for $78 million, but two miles of regular [road] interstate costs $80 million." Once a fiber network is built, internet service providers would pay a rental fee to use the West Virginia "middle mile" fiber lines to reach the "last mile" rural clients. Walters hopes this will encourage competition between multiple providers — currently, Frontier Communication controls what little fiber links rural West Virginia.
The concept of a "middle mile" fiber line sponsored through the state isn't foreign to Appalachia. Kentucky has created a public-private partnership called KentuckyWired that, according to its website, will build "a statewide, open-access fiber optic network which will deliver robust, reliable and affordable Internet to communities across the state through broadband technology."
A September statement from the governor's office noted that the KentuckyWired middle-mile network is slated to include more than 3,000 miles of fiber optic cable and use more than 1,000 government and post-secondary education sites as jumping-off points for local internet service providers to use to connect to "last mile" rural customers. "Preparation work has already taken place at nearly 100 government, university and community college sites in eastern and northern Kentucky," according to the statement. The statement also details a partnership with Eastern Kentucky Network, LLC, which aims to extend 305 miles of fiber to 21 counties and 20 communities in Eastern Kentucky.
In Eastern Kentucky, broadband expansion has helped spur the creation of new companies such as BitSource in Pikeville, Ky., a digital design company started by people who previously worked in the coal industry.
To help local workers retrain for technology jobs, the regional arts organization Appalshop developed the Mines to Minds initiative. Run in partnership with Southeast Kentucky Community and Technical College, the program will offer technology certificates and is slated to begin in the spring 2017 semester. Mines to Minds will focus on two main tracks for certification: digital design and system administration. These tracks will encompass software writing, coding, website development and security — all examples of local need, according to Shawn Lind, Appalshop's coordinator for the project.
Lind spoke with area employers about their technology needs and then devised a series of classes that would train students to fill technology positions and meet the needs of those local companies. "We aren't trying to recreate the wheel that Southeast is already doing," Lind said in an email, "just improve it a bit."
The Mines to Minds program will also use the digital classroom at Appalshop's facility in Whitesburg, Ky. "We will be organizing and hosting free community workshops on many different technology tools," Lind explains. "It might be teaching photography skills for local businesses to take better photographs of their products/services. It might be a workshop for area organizations to make more effective social media posts incorporating new multimedia content."
As better broadband continues to bring technology jobs into Eastern Kentucky, Lind says he hopes the program will "develop a high tech workforce so local people can find local jobs."
However, it's not just local nonprofits working to fill emerging technology jobs. In June, the federal government announced the expansion of their TechHire initiative into Southwest Virginia and Western North Carolina.
TechHire, which is already active in Eastern Kentucky, is an Obama administration program that works in targeted communities to train workers in technology fields and help them find local employment. The program also aims to showcase how interconnected technology is with other industries, since even manufacturing plants need an IT department. In doing so, TechHire focuses on specific regions and their particular needs.
"About 300 jobs have been created since TechHire launched in eastern Kentucky in 2015, with an estimated $6 million impact on the local economy," a June White House blog reports.
Following this initial success in Eastern Kentucky, the White House blog states that the new South Central Appalachia TechHire program "will prepare and place over 50 individuals into tech jobs over the next year, and 400 by 2020."
Social Media in Appalachia
While State Sen. Walters and others throughout the region work on changing the policies surrounding broadband, other organizations are looking to the community. Michael Parsons and Eric Meadows run Voices of Appalachia, a website and social media outlet based out of Charleston, W.Va., that, as Parsons explains, "aims to promote a positive story of Appalachia by preserving modern heritage and culture." In sharing archival photos, stories and bits of regional history through social media, Meadows argues that, "you can be culturally true to your ancestors and still exist in modern society."
According to Meadows, starting this past February they invited followers on their Facebook page to comment on the archival and historical photos Voices of Appalachia uploaded, asking if anyone had similar memories. Many of their followers with stories or experiences wrote comments and shared the page with their friends and family. Meadows states that these interactions expanded Voices of Appalachia's Facebook followers from 3,000 in February 2016 to over 15,000 followers as of September.
Both Meadows and Parsons agree that West Virginia needs to ensure that internet is accessible to everyone in the state. They see the Middle Mile Bill proposed by Walters as a step in that direction.
Despite running such a successful site, Meadows doesn't have home broadband. Instead, a job in technology allows him the means for an expensive and reliable satellite connection that many can't afford. With "access to quality reliable internet" Meadows notes that there's potential to revitalize mining towns by turning mine and mine-related buildings that have closed into technology centers for the community, in much the same way cities are repurposing factories and warehouses. "Lets make these tech centers, community centers," he says, explaining that such transformations will foster economic diversity.
Parsons points out that even with initiatives such as Sen. Walters' Middle Mile Bill, Appalachia needs to "start working on opportunities to keep young people." Both Meadows and Parsons want to improve the quality of life for West Virginian youth living in rural parts of the state. Parsons says he wants to see the area, "take the heritage and attitude of 100 years ago and meet today's challenges with it." He expresses a hope that expanded broadband will offer more opportunities and engagement, in both a social and economic sense, than currently exists for Appalachian youth.
"Without strong fiber connectivity, we are depriving [our young people] of opportunity," says Walters.
Making Use of Broadband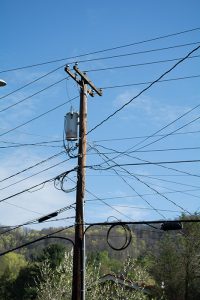 Telephone, internet and power lines in North Carolina. Photo by James M. Davidson
The idea of retention is central to the work of Startup High Country, a hybrid incubator and consultancy group in Boone, N.C., that works with Appalachian State University to help keep students involved in the community after graduation. Even though Boone and the surrounding High Country region have broadband infrastructure, James Bance, Chris Grasinger and others at Startup High Country are hoping to make digital technology more of a focus in the local economy.
The organization's goals are to assist startup businesses and create new high-paying tech jobs in the process. Bance, founder of Startup High Country, emphasizes the focus on the local economy and training local people. "We're never going to aspire to be Silicon Valley," he says.
Grasinger, part of the Startup High Country leadership team, grew up in Blowing Rock, N.C., and hopes that Boone continues to let "students get hands-on experience with a growing local economy." He also believes that new technology companies can help create stable jobs as broadband continues to expand and existing infrastructure is fully utilized by communities.
"Successful technology companies can offer more living wage opportunities to the households of our region," Grasinger says. "This impact can potentially ripple throughout the region, creating a greater quality of life for our communities."
This impact can be seen at Lincoln Road Coffee, where their ability to tap into a growing broadband network allows the company to reach a much larger market. Now in New York City, San Francisco and Los Angeles, people might open a bottle of Lincoln Road Coffee cold brew and read right on the label that it's brewed "in the heart of the Appalachian Mountains for you to enjoy however you please."
Donald Welch blogs about the intersection of nature and technology on The Frontier. Visit thefrontierblog.wordpress.com.
Protecting the Central and Southern Appalachian Mountain Region
Source:
http://appvoices.org/2016/10/07/appalachian-broadband/
We encourage you to Share our Reports, Analyses, Breaking News and Videos. Simply Click your Favorite Social Media Button and Share.