25 Years of "Making the Invisible Visible"
By Forrest Gray Yerman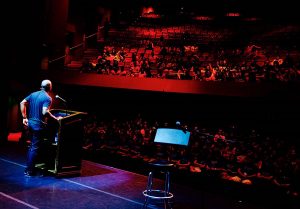 Frank X Walker reads from his poetry at the Kentucky Governor's School of the Arts. Photo by Patrick Mitchell
"We are African Americans in Appalachia — Affrilachia," says fantasy novelist and poet Gerald Coleman in an interview on the Carnegie Center for Literacy and Learning's website. "And so," he continues, "we knew kind of intimately and in a nebulous kind of way who and what we were, but by putting a name to it that kind of solidified it, that formalized it. This is who we are."
Frank X Walker — the 2013-2014 Kentucky Poet Laureate, 2014 NAACP Image Award winner and author of seven poetry collections — was integral to the emergence of the Affrilachian Poets. In 1991, after reading a dictionary definition of "Appalachian" as "a white native or resident of the Appalachian mountain area," Walker created the word "Affrilachia" to acknowledge his experience in the region.
During this time, he and a group of friends at the University of Kentucky in Lexington began calling themselves the Affrilachian Poets. After many years of growth and accomplishments, the group is celebrating its 25th anniversary with poetry readings, book publications, road trips and rounds of golf across the region and country.
The word "Affrilachia" is now defined in the Encyclopedia of Appalachia and the New Oxford American Dictionary as acknowledging the historical and contemporary presence of black people in Appalachia. For many in the Affrilachian Poets, the term makes room for more ways of understanding and naming one's Appalachian identity.
"I don't think there's a singular Affrilachian identity, per se," says Bianca Spriggs, a multi-disciplinary artist and author of five poetry collections. "But I think what it does is it … opens the door for a spectrum of identities to be welcome."
Indeed, Marta Maria Miranda, president of The Center for Women and Families in Louisville, called herself in pluck! The Journal of Affrilachian Arts & Culture, "Cubalachian —Cuban by birth and Appalachian by the grace of God."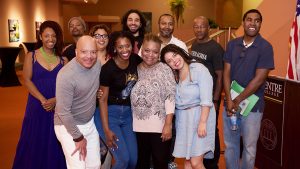 Affrilachian Poets at the 25th Anniversary Reading at the Governor's School of Arts, in Danville, Ky. Top, left to right: Asha French, Makalani Bandele, Bianca Spriggs, Keith Wilson, Mitchell L.H. Douglas and Frank X Walker. Bottom, left to right: Gerald Coleman, Shayla Lawson, Kelly Norman Ellis, Joy Priest and Bernard Clay. Photo by Patrick Mitchell
In looking at the majority of the group, however, the Affrilachian Poets are similar to the writers of the Harlem Renaissance and Black Arts Movement — a predominantly black group of writers.
"Replacing those 'p's' with 'f's' says you are not invisible," Crystal Wilkinson, author of two short story collections and a novel, said of the word "Affrilachia" in an interview with the Appalachian Journal. "That I was part of something that has such a longevity and such an impact is phenomenal. The poets tour all over the country and the idea that this word Affrilachian is floating around helps combat some of the stereotypes about us. I think that is wonderful."
Collectively, the group's 40-plus members have published more than 60 books, including poetry collections, short stories, novels, memoirs, plays, and, most recently, a coloring book. The books range across a spectrum of literary genres and topics. The members have also published widely in literature anthologies and journals such as pluck!, which, in all 13 issues, features work from most of the Affrilachian Poets.
One sign that the group has gained the respect of Appalachia's literary communities is their presence in many regional anthologies as well as special journal issues dedicated to Frank X Walker. Many Affrilachian Poets have also been published in anthologies of African American literature, including two poems by the late Norman Jordan — long before the group formed — published in the 1970 anthology "The Poetry of the Negro."
A commitment to education can be seen in the Affrilachian Poets' presence in universities across the country. Members of the group lead writing workshops with Cave Canem and the Hindman Settlement School, and have taught writing classes in prisons. Walker, who is often referred to as "Professor X," has received honorary degrees from the University of Kentucky and Transylvania University.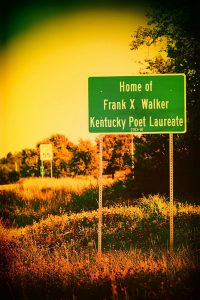 Frank X Walker is a native of Danville, Ky. Photo by Patrick Mitchell
Joy Priest, an up-and-coming poet and masters of fine arts candidate at the University of South Carolina, described the role of activism in her writing. "Oh, that's major. I would refer to the Affrilachian Poets as activists," she says. "All of our work is activism by nature, because that's what making the invisible visible is all about."
Poets Amanda Johnston and Crystal Good represent the group's dedication to social activism. Johnston does so in her hashtag poetry and letter writing campaign, #BlackPoetsSpeakOut. And Good serves as the "Social Media Senator for the Digital District of West Virginia," a position she created to help relay the sentiments expressed by the state's social media users to political representatives.
If their past and present indicate the future of the Affrilachian Poets, they can be expected to live long and prosper as artists, educators, and activists across the Appalachian region and beyond.
"I would love to do an international tour, and I'd love to have an Affrilachian Press," Bianca Spriggs says. "Frank would probably say he could see a spaceship with Affrilachia written on the side."
To learn more visit theaffrilachianpoets.com, coalblackvoices.com
Forrest Gray Yerman, a native of Matney, N.C., received an M.A. in Appalachian Studies from Appalachian State University. He recently moved to Lexington, Ky., and is currently applying to doctoral English programs to further study and understand the Affrilachian literary movement.
Protecting the Central and Southern Appalachian Mountain Region
Source:
http://appvoices.org/2016/10/07/affrilachian-poets/
We encourage you to Share our Reports, Analyses, Breaking News and Videos. Simply Click your Favorite Social Media Button and Share.