By Eliza Laubach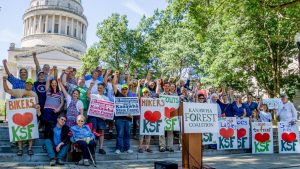 The Kanawha Forest Coalition holds a press conference on Aug. 23. Photo by Joe Solomon
The KD#2 surface coal mine in West Virginia was permanently halted by state regulators after a two-year, resident-led campaign to close the mine. A consent order signed in mid-July requires Keystone Industries to stop mining and only allows work related to reclamation and maintenance of the site.
Kanawha State Forest Coalition, a local grassroots network, organized the opposition to the KD#2 mine, which state regulators permitted in 2014. The permit allowed mining within 588 feet of the Kanawha State Forest and 1,500 feet of homes in Loudendale, W.Va. The company disturbed 100 acres, about a quarter of the total area, before permit violations caused state regulators to suspend active mining in early 2015, according to the coalition. The coalition's watchdogging brought many of the 42 violations to state regulators' attention.
"This is … a powerful demonstration of the impact citizens can have when we take a stand, stay persistent, and don't back down," coalition coordinator Chad Cordell said in a press release. "Many people thought this strip mine was unstoppable when the permit was issued over two years ago."
Protecting the Central and Southern Appalachian Mountain Region
Source:
http://appvoices.org/2016/10/07/mountaintop-removal-mine-closes/
We encourage you to Share our Reports, Analyses, Breaking News and Videos. Simply Click your Favorite Social Media Button and Share.