Each month, Appalachian Voices Executive Director Tom Cormons reflects on issues of importance to our supporters and to the region.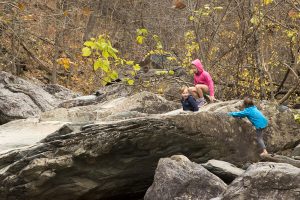 Tom's children on a recent hike to the family's favorite mountain stream near Charlottesville, Va.
Let's be honest: this is a difficult time.
I was hiking with my three young kids last weekend. I witnessed their joy, watching them skitter up a rock above our favorite mountain creek, honing their balance. I admired their presence in the moment, seeing them examine trees, mushrooms and tiny creatures along the trail, chewing on birch twigs.
But it was difficult to share in that joy or presence. It's been hard to look at my kids or Appalachia's natural beauty without thinking about the presidential election and its implications.
I believe deeply in Appalachian Voices' longstanding mission to bring people together for the well-being of Appalachian communities, our shared natural heritage and our children's futures. And we're not alone: commitment to the common good unites engaged citizens across America, including our allies and partners from many walks of life who bring a variety of experiences and worldviews.
I believe the first reason we stand together is practical: it works. It's how we protect our mountains, air and water. It's how we create clean energy jobs and new economies. It's the way communities and societies have always accomplished great things. And there's something deeper, too: we inspire each other when we work in common cause, transcending our inevitable differences and connecting with others. It affirms our brotherhood and sisterhood, we feel the boost to our energy and the depth of our power to make a difference.
In stark contrast, the presidential election has underscored and exaggerated our differences, overshadowing the many fundamental values we share. It's left many with a feeling that our country is tragically divided. To make matters worse, so much of what we have in common—including our desire for healthy families, clean air and water, economies that support healthy communities—is in extreme jeopardy, judging by nearly every signal the president-elect has sent.
But I look at my kids and know being discouraged is not an option.
Instead, we must join together like never before. We'll need our collective strength to stand up for our water, our mountains and the climate. And we cannot afford to be relegated to a strictly defensive posture: we need to work hard together for clean energy and sustainable economies. We need to build on what we all have in common, bridging differences with others, including how they may have voted.
We know that it works. And it's never been more important to show what we can accomplish together. The world we leave our kids and the example we set for them both depend on what we do now.
Protecting the Central and Southern Appalachian Mountain Region
Source:
http://appvoices.org/2016/11/23/a-special-message-from-appalachian-voices-executive-director/
We encourage you to Share our Reports, Analyses, Breaking News and Videos. Simply Click your Favorite Social Media Button and Share.