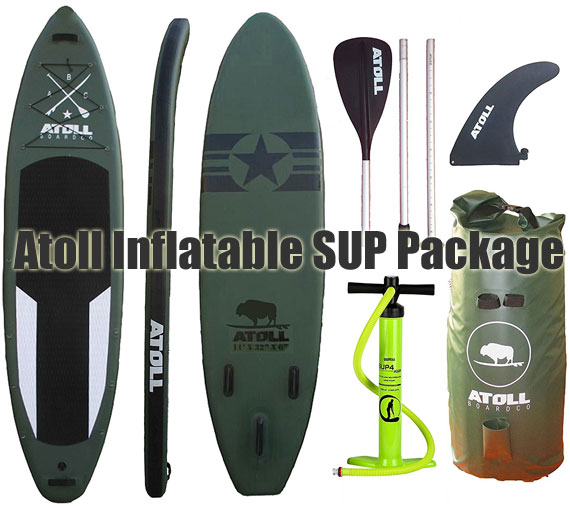 If you like the rugged, camo look in sports gear, this Atoll iSUP may be for you. Overall, I think it's very similar to other well-made inflatable paddleboards on the market except for its darker camouflage coloring which sets it apart.
Here's What I Like About the Atoll Inflatable SUP:
1. Its Size
The Atoll "Cruise Deluxe" is 11′ long, 32″ wide and 6″ thick.
It is longer than other entry level boards, which tend to be about 10′ long. At the same time, it's shorter than other inflatables that are 12'6″ or longer and tend to be more cumbersome to carry. 11′ is a good in-between size that can carry more weight (up to 250 lbs) while being easier to transport around.
Many iSUPs run between 30″ and 32″ in width. The wider the length, the greater stability. Of course, this means that there is more room on the board as well. This feature comes in really handy for activities such as paddleboard yoga, taking trips with your pet or the kids, fishing, etc..
The 6″ thickness adds more stability for riders than standard 4″ thick SUPs. This is helpful for beginners, people traveling with pets or those who want to ride a little higher above the water.
2. This SUP has a Ton of D-Rings
OK. Not a ton. Just 14. However, this is more than double what traditional boards offer. If you ever want to carry a cooler, fishing tackle, snorkeling gear, a drybag or other stuff, these D-rings come in very handy.
In addition, you can also attach a kayak seat to use your SUP as a sit-on-top kayak. Basically, the board has now become much more versatile so you can do a lot more activities with it.
3. The Atoll Comes as a Complete Package
I'd say the majority of iSUPs are sold as packages, but there are several that don't include a paddle or carrying bag. As you can imagine, these 2 items are handy to have, and they can get expensive to purchase separately.
It's easier to just get everything all at once. Furthermore, you also end up paying less with package deals too.
Atoll Package Includes:
11′ Inflatable SUP
High-Pressure Manual Air Pump to 15 PSI
3-Piece Adjustable Paddle (has Nylon Blade that is lightweight & durable)
Detachable Fin
Rugged Travel Backpack (also doubles as a drybag!)
4. High Quality in Design
courtesy of http://atollboards.comLike many other inflatable paddle boards that I have seen, the Atoll Features Korean style drop stitch technology. Essentially, this means that they are super durable and attain extreme rigidity, even though they are inflatable.
Over the years, I've had plenty of people mistake my inflatable SUP for a hard board. It's just that rigid.
Another standard feature that Atoll includes is the EVA foam deck pad on the top face of the board. This makes it much easier to balance while standing up, not to mention very comfortable underneath the feet. In addition, having a grippy surface comes is very handy when doing yoga poses on the board.
Stand Up Paddleboard Package