Photo by Matt Wasson
For many ordinary and extraordinary people in Appalachia working to protect the mountains, rivers, forests and farmlands that make our region so special, it may be difficult to be thankful this holiday season.
We feel you. Each of us at Appalachian Voices has been wrestling in her or his own way to come to terms with the implications of the recent national elections. As a team, we have found much support and love from each other. And we stand more committed than ever to our mission: to bring people together, from all walks of life, for the well-being of communities, to defend our natural heritage, and to create a healthy and just economic future.
We wanted to take this opportunity to express what we are thankful for, and to invite you to do the same. Post a comment below or on our Facebook page.
We wish you peace and joy.
* * * * * * * * * * * * * * * * * * * * * * * *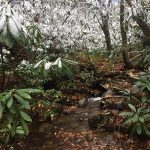 Peter: I'm thankful for our national forests, national parks, state parks, and wilderness areas. May they continue to inspire us, and may we continue to prioritize their protection.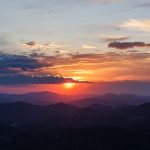 Lou: I am thankful for the mountains and the backbone they have been for me and I am thankful for family, friends, and radical acts of resistance that remind me to remain tender and keep doing the work.
(Photo by Lou Murrey)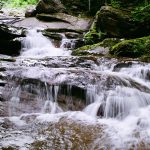 Amy: I am thankful to be a small part of many diverse and inspiring communities across the state and witnessing everyday hardworking citizens engage and unite around issues that confront us. They are my inspiration, and I am thankful, grateful for these beautiful strong people I am blessed to know.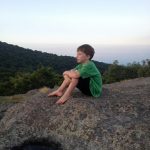 Susan: This holiday I am thankful for the opportunity to take my children to beautiful places where they can reconnect with the natural world and be inspired to protect it. (Photo by Susan Kruse)
Cat: I give thanks for wild lands, the charity of my neighbors, public radio, my health and access to clean water and good food that too many among us lack, the coming winter, a ripping hot guitar lead, and the buddha alive in each of us.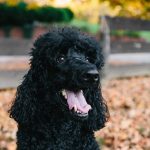 Lydia: This year I am especially grateful for the seven years of love and friendship I received from my dog Benny. Benny passed away last week and his loss will be sorely felt with the absence of desperate puppy dog eyes watching for any spills or dropped morsels on Thanksgiving.
Leigh: I am thankful for having just completed my first full year working at Appalachian Voices with talented, intelligent, dedicated co-workers and supporters who know how to get good work done.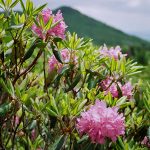 Lauren: From the vast biodiversity to the breathtaking views and endless adventures, the Appalachian Mountains never cease to inspire me. I'm grateful to be able to work alongside my dedicated neighbors to protect and improve our home in this region. (Photo by Molly Moore)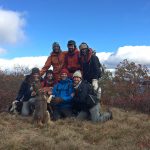 Lara: The Appalachian people are as vast and varied as the ecosystems and watersheds of the Appalachian mountains. I am thankful for the beautiful and diverse community of people that make up the Appalachian communities and organizations that I know and love and am beyond honored to work and collaborate with.
Jeff: I'm thankful I get to live in these MOUNTAINS!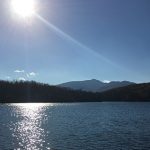 Jamie: This holiday I feel appreciation for the little moments of life, like the sounds of the forest in the morning sun or cloud watching on a bright blue day, the wind stirring ripples across a lake and simple times spent with friends and family. I am beyond grateful I get to experience all this in these beloved Appalachian mountains. (Photo by Jamie Goodman)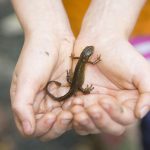 Tom: Heather and I feel so fortunate to be in the midst of our young kids' love of the world.
Brian: I'm grateful for the innumerable Americans that share Appalachian Voices' mission, and the trust our supporters place in our organization every day. Thank you.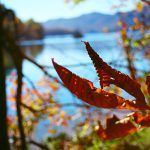 Molly: I'm grateful for the people across Appalachia and the country who are motivated to learn from each other and build a better world, and for venues like The Appalachian Voice that allow us to share our stories and visions. (Photo by Molly Moore)
Jimmy: I'm thankful for occasionally not getting stuck behind a bus on the way home, for the severely pedestrian but hard-working AppVoices coffee-maker, for the way my daughter doesn't realize her leftover Halloween candy is disappearing at a rate faster than she is actually consuming it, for M&M's eventually running out of new-flavor ideas so I no longer have to excitedly purchase them only to be sorely disappointed, and for the hope that I may someday again be able to find a regular toothbrush that doesn't look like a running shoe.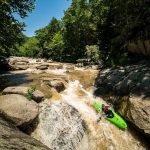 Erin: I'm thankful for firefighters, friends and foreign countries.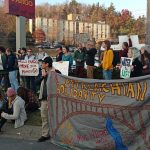 Kate: This Thanksgiving I am particularly thankful for the continued resiliency that is demonstrated by the people of Appalachia. Our region faces new threats every day and rather than allowing ourselves to feel beaten down, our communities are rising up, stronger and more united than ever. And that resolve extends far beyond Appalachia, to connecting with communities fighting across the country for basic rights of clean air, clean water and healthy communities. I am thankful for each person's dedication and sacrifice towards these universal beliefs.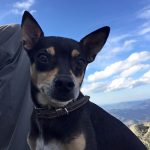 Matt: I am grateful for the network of support provided by my family, community and country that provide safety and the space to thrive doing what I love. I am also conscious of the many privileges I enjoy that are not afforded to everyone and am determined to work to extend that network of support to others. (Photo by Matt Wasson)
Protecting the Central and Southern Appalachian Mountain Region
Source:
http://appvoices.org/2016/11/23/giving-thanks/
We encourage you to Share our Reports, Analyses, Breaking News and Videos. Simply Click your Favorite Social Media Button and Share.