Ghost face image appears at Witches Castle
Witches Castle has been there located at Forest Park, Portland, Oregon. It's at junction of Wildwood Trail and Lower Macleay Park Trail. It known to be haunted. A face may have appeared from spirit photography. You can see the face inside the black circle with arrow. Spirit photography have known to happen when photo is taken. Many times, when you take photograph, you don't see spirit. The spirit does appear on photo prints.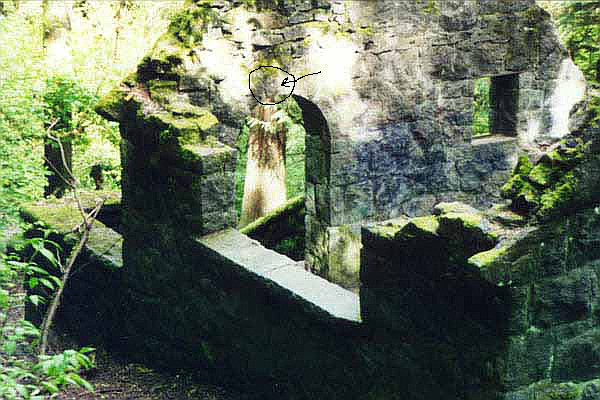 In 1897, the land was given to the city by its then-owner Donald Macleay to be used as a park. Despite stories claiming that it was once the Balch homestead, the structure known as the Witch's Castle was built in the 1950s to house restrooms and a ranger's station. It fell into disrepair quite quickly, and was abandoned after the Columbus Day Storm on October 12th, 1962. Though there is little left to mark its former function, the stone walls and steps remain, their covering of moss conjuring images of eerie Gothic castles. It's no wonder, then, that ghost stories have sprung up around the place. Some say that the spirits haunting the Witch's Castle are those of the Balch and Stump families, still fighting their old feud. Others make no connection to the land's dark history, claiming that the castle was instead home to a witch's coven or Satanic cult. Even as a public restroom and ranger station, the stone structure in the wood was supposedly plagued by supernatural phenomena. Visitors felt uneasy upon entering, and toilets reportedly flushed on their own, scaring patrons. Some say the building was abandoned because such paranormal activity was too much to bear. There have been report the sighting of ghost hanging on tree near Witch's Castle and known to have ghost war.
Brief History of Balch and Stump
In 1850, Danford Balch filed a land claim on this portion of land near what was then the fledgling settlement of Portland. Danford's land was large enough that he needed help to clear it. He hired a transient worker named Mortimer Stump who was from Vancouver. Balch allowed him to stay with the he and his family which consisted of his wife Mary Jane and his 9 children. Mortimer, Anna, and some other members of the Stump family returned to Portland for some supplies and encountered Danford. Having been nagged and tormented by Mary Jane to make good on his promise, Danford later claimed that his wife "bewitched" him into carrying out his threat to kill Mortimer and return their daughter to the family. In a drunken stupor, Danford pulled a shotgun and shot Mortimer in the head. 6 months later. Danford Balch was put on trial and convicted for the murder of Mortimer and was hanged to death on October 17, 1859. This was the first legal hanging that occurred in the newly formed Oregon Territory. Mary Jane continued to live at the Balch cabin, but at Danford's request divided up the land among her children.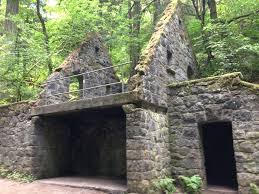 The little room on right may have been used for Witchcraft. There is satanic drawing inside that room. This room is to eerie for me to enter in that room.
We encourage you to Share our Reports, Analyses, Breaking News and Videos. Simply Click your Favorite Social Media Button and Share.