UFO OR PORTAL AT COPPEROPOLIS, CA
By Paul Dale Roberts, HPI Esoteric Detective
Halo Paranormal Investigations – HPI International.
https://www.facebook.com/#!/groups/HPIinternational/
Sacramento Haunted Paranormal Hotline: (916) 203-7503 – 4 Advice & Investigations
Email: jazmaonline@gmail.com
I have no idea what this is, but my wife Deanna Jaxine Stinson took several pictures of the clouds that had a reddish tint from the sun setting in the horizon. When looking at the pictures, she discovered she took a picture of a strange anomaly. Location: Copperopolis. Camera Used: I Phone 6. My vehicle a 2010 Kia Forte was headed West towards Sacramento – 50 mph. Date: 11/24/2016. Time: 5:07pm
Special Note: I am starting to think Deanna is a magnet to UFOs. Once in Grass Valley where UFOs have been sighted, she asked a UFO to power up and it did. There were witnesses to this. Another time she spotted a black cube in the sky in Sacramento and pointed it out to me and sure enough there was a black cube in the sky. At Bodego Bay, she spotted a rocket type of UFO with flames coming out from the bottom end and now this. As a young child she saw a mysterious eye shaped craft in the sky and it changed her life. The veil was open for her and she was detecting the presence of ghostly entities. She presently has the ability to detect spirits.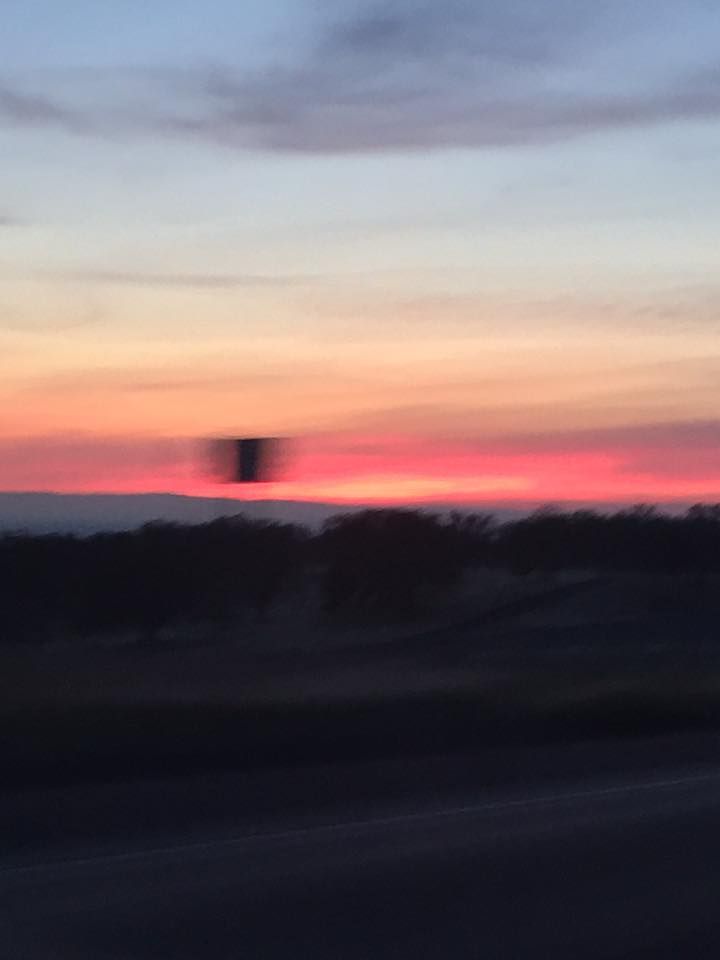 Paul Dale Roberts, HPI Esoteric Detective
aka The Demon Warrior
Halo Paranormal Investigations (HPI International)
https://www.facebook.com/#!/groups/HPIinternational/
www.forums.jazmaonline.com
TEARDROPSOFANANGEL
http://teardropsofanangel.com/
Pinterest Account:
https://www.pinterest.com/paulr2781/deanna-jaxine-stinson-aka-the-black-rose/
http://thehorrormoviesblog.com
Email: spider-goddess@cryptic916.com
Email: jazmaonline@gmail.com
Paranormal Cellular Hotline: For Investigation or Advice: 916 203 7503
We encourage you to Share our Reports, Analyses, Breaking News and Videos. Simply Click your Favorite Social Media Button and Share.