A strange asteroid 1.3 kilometers (3,280 feet) across streaked past Earth on Wednesday, giving astronomers a rare chance to check out a big space rock up close. XX
Dubbed 2014-JO25, the asteroid came nearest at 12.20 GMT and is now hurtling away from the centre of our solar system, said Ian Carnelli, an astronomer from the European Space Agency (ESA).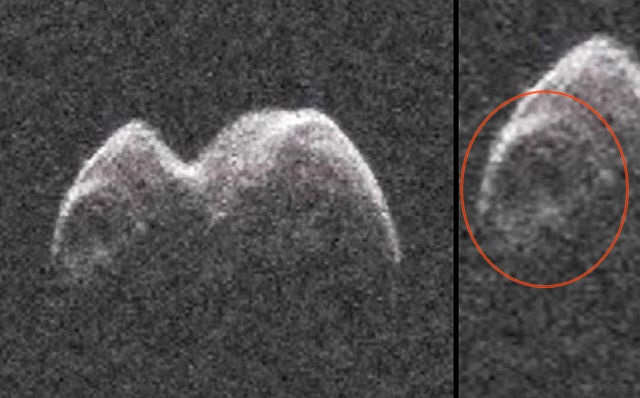 The Arecibo observatory in Puerto Rico—which has one of the world's biggest radio telescopes—captured the 2014 JO25′s first images, showing a "dragon-shaped" object that is likely "two large asteroids that fused together".
You may not see them, but space rocks whizz above our heads all the time. But large asteroids passing this close to Earth remain a rarity.
The next one will pass by in 2027, a 800-metre long object that will come within one Earth-to-the-Moon distance.
The last time 2014-JO25 was in our vicinity was 400 years ago, and its next close encounter with Earth won't happen until sometime after 2600.
Thanks http://ufosightingshotspot.blogspot.com/
Check out more contributions by Jeffery Pritchett ranging from UFO to Bigfoot to Paranormal to Prophecy
~~~~~
Most people who use social media have figured out that Facebook and Google are in cahoots with the government. For those who are well aware of the issues, it's high time you switched over to Seen.life. It is a website that is similar to Facebook but without all the censorship.
Firearm friendly, you may buy sell or trade anything allowed by site TOS rules.
We encourage you to Share our Reports, Analyses, Breaking News and Videos. Simply Click your Favorite Social Media Button and Share.