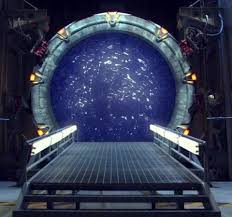 Legends from around the world speak of sacred entryways to the land of the gods. Gates that allowed instant passage not just beyond the confines of Earth, but beyond space and time. Are such passages–or stargates–just inventions of myth, or might this kind of interstellar travel have existed in the ancient world?
In Turkey, researchers uncover a mysterious and toxic cave that the ancient Greeks described as a physical gateway to Hell. The Incas believed their empire began when divine beings stepped through portals in a mountain. In Northern Mexico, legends describe strange, otherworldly creatures appearing and disappearing within the remote ruins of an ancient civilization.
As science continues its quest to create technology that would allow humans to travel to the stars, is it possible that these celestial pathways already exist? A closer study of certain reports indicate that alien beings sometimes manifest to our senses as apparitions and teleport themselves to our world from another dimension.
This brings us to the fascinating mystery of stargates, which are considered to be gateways of the gods. There are places on this planet, which are shrouded in myth, magic and mystery. These ancient sites are where you can "feel" the presence of the alien gods, our ancient masters.
Check out more contributions by Jeffery Pritchett ranging from UFO to Bigfoot to Paranormal to Prophecy
~~~~~
Most people who use social media have figured out that Facebook and Google are in cahoots with the government. For those who are well aware of the issues, it's high time you switched over to Seen.life. It is a website that is similar to Facebook but without all the censorship.
Firearm friendly, you may buy sell or trade anything allowed by site TOS rules.
We encourage you to Share our Reports, Analyses, Breaking News and Videos. Simply Click your Favorite Social Media Button and Share.