Sky observer DiversityJ captured a very rare, incredibly fast sequence of events on the evening of October 26, 2017 at 7:32pm while recording Saturn in the west sky.
A nearly transparent ultra high speed UFO that seems to defy basic laws of motion, from the viewers' perspective it traveled directly across the surface of Saturn in the lower Western sky, causing wave distortion, actually distorting the light of Saturn.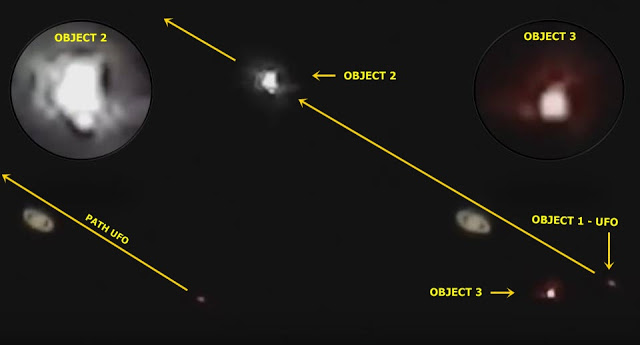 In 1 1/4 second (75 frames), there was a bright UFO that shot up from below Saturn, lit up a second object with an orange glow, then after the UFO passed Saturn it appeared to trigger another burst of light (third object) before going out of frame.
If you look closely you can see the UFO turns from light orange to white as it seems to become one with the bright white flash of light.
DiversityJ states: Now, I didn't see this when out filming. Had a heck of a time getting the camera to find Saturn, and then manually trying to focus, waiting for the noisy atv's to quiet down. But as Saturn got lower in frame and I tried to adjust, I lost it and couldn't find it again during this take. A few minutes later I eventually got both the Moon and Saturn.
Anyway, on that first take, I was staring at the monitor with my magnifying glass glancing up and back down the whole time. I didn't see any lights or airplanes. It wasn't until going in and watching the footage on the computer that I saw the event, lasted less than 2 seconds!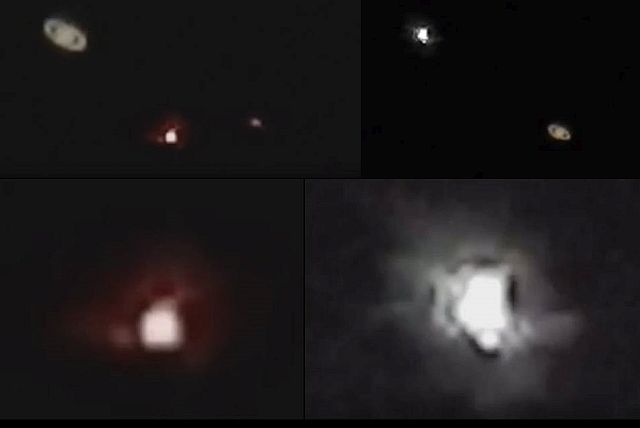 Specifications:
7:32pm, Thursday Oct 26, 2017, NE Ohio, 42°F – SW Sky.
Nikon P900 with 83x optical zoom & 166x dynamic fine digital zoom super telephoto Nikkor lens: -Homemade Solar Filter using Thousand Oaks Optical Solar Filter Film. Manual Focus, Shutter Speed 1/10, Aperture 6.3, ISO 100-400, AE-L (auto exposure locked).
This very fascinating sequence of events in space observed from NE Ohio that would have never been noticed if it weren't for the great camera work and intuition of DiversityJ to have the camera recording just at the right time.
Thanks http://ufosightingshotspot.blogspot.com/
I host the Church of Mabus radio show and it is going on 8 years. I've been in the paranormal community for 20 years. I provide content from a network of sources and guests and allies. Ranging from Politics to the Paranormal and the Spiritual. You can check out my other articles here at my BIOGRAPHY at BIN and you can check out my free radio show at this link HERE. Thanks for showing your support and stopping by.
We encourage you to Share our Reports, Analyses, Breaking News and Videos. Simply Click your Favorite Social Media Button and Share.