There are rumors that we went to the moon but we had help, besides it seems the landings filmed by Stanley Kubrick were staged to cover what they really encountered on the moon: reptilians, bases, buildings, machines for mineral exploration and much more.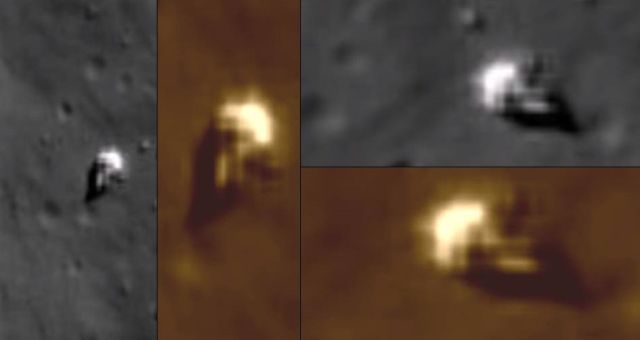 Lunar Anomaly.
Now, once again, an out of the place lunar anomaly has been discovered by Streetcap1 in one of NASA's Unmanned Lunar Orbiter photographs taken last year around December.
According to Streetcap1 the shadow seems to indicate right angles and parallel lines which could be an indication that the anomaly is some sort of building. The scale is 0.56 meters/pixel. So it's huge.
So if the landings were staged to cover-up what they really encountered on the moon then could it be possible that the discovery of the lunar anomaly is such a building, a construction built by an intelligent alien race in the past?
Obviously, it cannot be proven whether the lunar anomaly is a building or not but we may wonder whether the moon landings indeed were staged if you listen to the interview that Project Camelot had with Fred, a 90 year old former technical inspector in Aviation working for an Airline back in the 60′s. During the interview Fred recalls how he stumbled on a hangar in Michigan that appeared to be at least one staging hangar for the faked part of the Apollo Moon Landings, see second video.

Thanks http://ufosightingshotspot.blogspot.com/
I host the Church of Mabus radio show and it is going on 8 years. I've been in the paranormal community for 20 years. I provide content from a network of sources and guests and allies. Ranging from Politics to the Paranormal and the Spiritual. You can check out my other articles here at my BIOGRAPHY at BIN and you can check out my free radio show at this link HERE. Thanks for showing your support and stopping by.
We encourage you to Share our Reports, Analyses, Breaking News and Videos. Simply Click your Favorite Social Media Button and Share.