The Israeli-trained United States police state has deployed a terrifying torture accessory, the living body bag, a portable total body straight jacket for anyone officers deem a threat, including the "emotionally disturbed". Why just hood a suspect when you can wrap the entire body, with aid of four to six other officers, and then, just carry the disoriented suspect in a duffel bag? Hooding alone, that inflicts "disorientation, isolation, and dread" on anyone, is a form of torture, an international crime, according to the International Committee of the Red Cross.
'The Burrito' – New US Police Torture Tool
The New York Police Department (NYPD), with approximately 34,000 uniformed officers and an annual budget surpassing $5 billion, have introduced to Americans the chilling portable 'restraining bag,' or what they call 'the burrito,' blatantly adding to their international law violations. Treating prisoners with dignity is the law. Officers are already using the full-body sized duffel bag to stuff their suspects, or anyone they deem a to be suspect, carting them to jail like pieces of over-sized luggage.
DeSantis Gunhide, a HELGEN Industries Inc. division is manufacturing the "Emotionally Disturbed Person" (EDP) bags. They retail from $750 to $899.
Hundreds of people in New York have already been bagged and carted in 2016 by the NYPD, according to Gothamist: 122 times in 110 days between January and April of 2016. One stomach-churning incident was caught on video by a concerned bystander.
Hooding is commonly used in Israel, that trains many US police officers, including NYPD.
In fact, the NYPD openly maintains an office in Israel. The ties, however, are even more widespread, according to journalist Rania Khalek in gonzo reporter Kit O'Connell's Minit News Press article, From NYC, Ferguson To Baltimore, American Police Are Trained In Apartheid Israel.
"Almost every single police department in the United States has sent high-level commanders to Israel to receive lessons in occupation enforcement," Khalek said.
But shh! Do not say that publicly, or even think it if you're a targeted individual under RNM (remote neural monitoring) or at risk of being labeled a conspiracy theorist, that is, emotionally disturbed, and experience first hand the living body torture bag.
Hooding, placing a hood over the entire head of a prisoner, is considered by more than one legal scholar as a violation of international law, specifically the Third and Fourth Geneva Conventions, that demand persons under custody or physical control of enemy forces be treated humanely.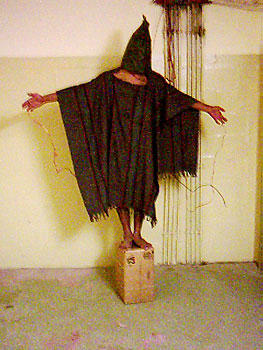 Hooding is potentially dangerous, especially when a prisoner's hands are also bound, as in the EDP bags. It is considered an act of torture when its primary purpose is sensory deprivation during interrogation and it causes "disorientation, isolation, and dread."
Delegates of the International Committee of the Red Cross (ICRC) have already protested hooding of U.S. prisoners. According to ICRC, hooding is used to prevent people from seeing and to disorient and prevent them from breathing freely.
"Hooding is sometimes used in conjunction with beatings to increase anxiety as to when and where the blows will fall. Hooding also allows the interrogators to remain anonymous and thus to act with impunity. Moreover, if a group of prisoners is hooded, the interrogator can play them off against each other by pretending, for instance, that some of them are cooperating, which the prisoners will be unable to verify." (Wikipedia)
Hooding is such a serious human offense, hooding resistance is a standard element of the Survival, Evasion, Resistance and Escape training undergone by elite US military.
In the words of Arundhati Roy: "The corporate revolution will collapse if we refuse to buy what they are selling – their ideas, their version of history, their wars, their weapons, their notion of inevitability. Remember this: We be many and they be few. They need us more than we need them."
See Related Article
We encourage you to Share our Reports, Analyses, Breaking News and Videos. Simply Click your Favorite Social Media Button and Share.