They call it AROL, the new Authoritarian Rule of Law. It basically Executive Order 13603 on steroids in which the government takes control of ALL essential resources and imposes curfews and restricts the movement of the public.
Presently, there is a drill taking place in which the newest form of martial law will be rolled out on October 30th. I have been clearly been told from multiple sources that this is a SNAP drill that will go live if the election cannot be stolen on Clinton's behalf. Please allow me to emphasize that every effort is being made to keep Trump out of the White House. At the same time, the globalists are seeking to turn lemons into lemonade. In other words, they can kill two birds with one stone. They feel they can stop Trump while at the same time begin what one of my sources calls "The Great American Purge".
Interestingly, Mac Slavo reports on this in more detail that I am getting. However, we seem to differ on one important point. Mac stated that the drill has not yet happened and it has not announced. It will not be announced. Secondly, the drill is already underway. It was begun under the auspices of UWEX 16, which I have reported on several times on this sie.
The AROL phase of these new military/DHS/FEMA drills will take place the week before the election on 10/30-11/3. How convenient!
The following contains two short videos. In the first video, I briefly explain what is coming if this drill goes live. In the second video, I have proof that part of this was discussed in the US Senate in January of this year.
Here is Senate testimony in which "International Martial Law" was discussed. It give the President total dictatorial powers and he/she can send troops anywhere in the world, for any reason for as long as they choose.
The dots are all connecting!
Please Donate to The Common Sense Show
PLEASE SUBSCRIBE TO OUR YOUTUBE CHANNEL AND DON'T FORGET TO "LIKE" US
This is the absolute best in food storage. Dave Hodges is a satisfied customer. Don't wait until it is too late. Click Here for more information.
---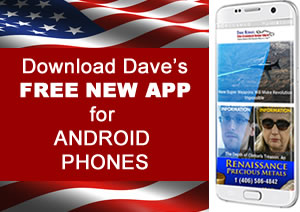 We encourage you to Share our Reports, Analyses, Breaking News and Videos. Simply Click your Favorite Social Media Button and Share.